The government of Bosnia and Herzegovina (BiH) faces increased public demand for digital services that are user-friendly, efficient and transparent. Unfortunately, BiH currently lags behind other countries in the region in providing e-governance solutions responsive to citizens' needs. This is primarily due to the complexity of the BiH governing system, the lack of political will and outdated laws and regulations.
The Stabilisation and Association Agreement (SAA) between BiH and the European Union, which put BiH on a path to EU accession in 2015, requires that an e-signature system be established in all of BiH. This requirement has been an impetus for digitalizing and integrating governmental services and facilitating government to citizen communication.
Currently, when citizens of BiH think about government services, what comes to mind are complicated procedures, an endless list of required documents, waiting in line for hours to sign a paper, and even the need to find personal connections to navigate bureaucratic processes. This results in a huge waste of time and money, missed opportunities which undermines trust in the public sector, and impedes the country's economic development. Lack of transparency and accountability of government services serve as fertile ground for corruption and impunity.
USAID's E-Governance Activity in BiH, a $10.5 million 5-year project awarded to Millennium Partners in February 2020, will solve some of the key issues that currently pose enormous challenges to BiH governing entities, citizens and businesses. The E-Governance Activity will help pave the way to public digitalization by automating processes and improving efficiency of Government-to-government assistance (G2G), Government-to-business assistance (G2B), and Government-to-citizen (G2C) assistance.
New e-services developed by the Activity will enable citizens and businesses to electronically apply for and receive government-issued documents — moving away from time consuming and costly in-person and paper-based processes.
Establishing electronic services has entailed the challenging task of redrafting outdated laws and regulations. On July 7, 2022, after months of skillful drafting assistance and lobbying by the E-Governance team, the Federation of BiH Parliament adopted the Law on Amendments to the Law on Administrative Procedure, achieving a critical step forward in the digital transformation of the public sector in the Federation of BiH. What may seem like a minor milestone in the world of legislation is a major breakthrough for Bosnia and Herzegovina. In a country with a labyrinth-like administrative structure comprising four different tiers of multi-ethnic governments at the State, Entity, Canton, and municipal levels, changes to the legal framework are often slow and cumbersome. The amended law is essential to the broad use of e-signature and the sustainability of the new e-services being developed by USAID's E-Governance Activity in partnership with the BiH government.
The USAID E-Governance Activity is simultaneously developing a range of integrated and interoperable IT systems that will create more efficient and transparent government processes conducive to private investment and economic growth. These include:
The Inspections Management System, and an improved Border Inspection Management System for the Federal Administration for Inspection Affairs
A system for electronic construction permitting for five pilot municipalities
A system for electronically centralized public procurement in cooperation with the Public Procurement Agency of BiH.
A special focus of the USAID E-Governance Activity is to build the capacity of civil society organizations to effectively monitor and report on government processes, which reduces opportunities for corruption and promotes cooperation between citizens and government.
"The USAID E-Governance Activity, besides digitizing public services, focuses on minimizing the discretion of public officials in decision making, which often results in the abuse of their authority and hinders the processes with which they are entrusted, and on empowering watchdog organizations to exercise greater scrutiny over government-led processes," said Brian Hannon, Millennium Partners CEO.
By opening the way for a transparent and efficient e-governance system, the E-Governance Activity is helping BiH reduce corruption, bureaucratic waste, and inefficiency while enhancing the quality of public services. Improvements such as these will foster greater trust between citizens and the government and create a favorable environment for investment and trade.
About the Author: Cristina Malai Turturica joined Millennium Partners in August 2022 as Vice President for Technical Direction and Business Development. With over 25 years of experience advising on and managing donor-funded legal reform projects in Moldova, Kosovo, and Ukraine, she now provides program management and technical direction for Millennium Partners' overseas projects and assists the home office in business development and communications, and outreach.
For more updates on Millennium Partners and their work, follow them on LinkedIn and Facebook.
The views expressed in this article are those of Millennium Partners and do not necessarily reflect the views of the US Agency for International Development or the US government.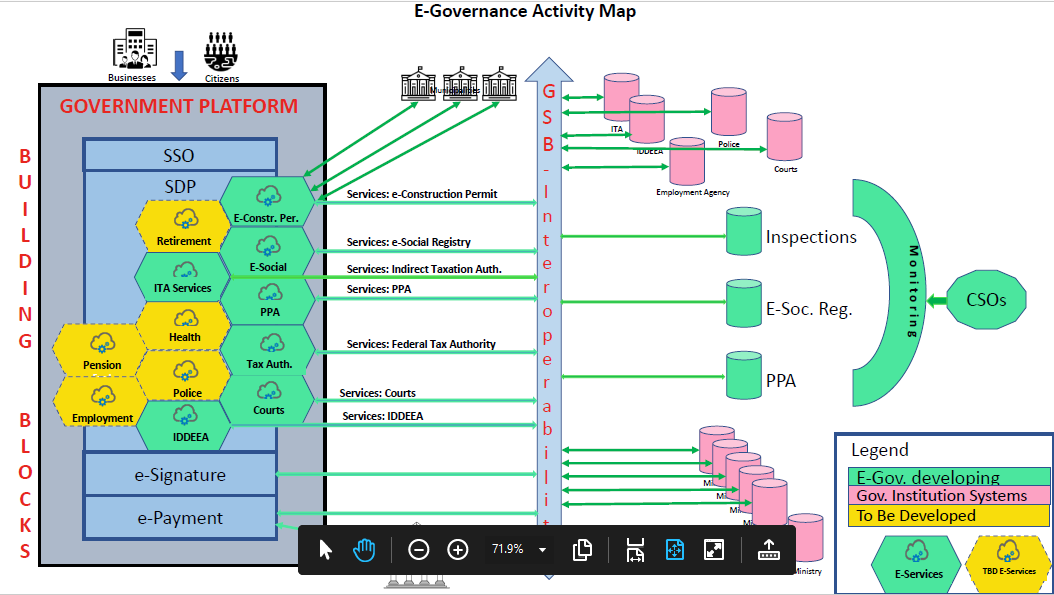 E-gov graphic illustrating the building blocks of creating digital solutions.