We are happy to share with you a glimpse of our work around the world and what we plan for the near future at Ovibees Ventures. We are a forward-looking venture accelerator specialized in designing and implementing country and regional entrepreneurship platforms and globalizing the most promising seed and early-stage startups.
Our global network of business leaders, serial entrepreneurs, and investors, has collectively implemented startup programs in over 80 countries. Our flagship concept, Venture Frontier, is a fully-integrated national entrepreneurship development initiative focused on the growth of a country's startup ecosystem. A case in point is the deployment of Venture Frontier in Sri Lanka where we brought a comprehensive series of entrepreneurship focused activities designed to support entrepreneurs to build local products and services with potential to reach global markets. This is the first fully integrated entrepreneurship Sri Lankan platform, built through a public-private partnership with the support of the the Government of Sri Lanka and leading private sector companies and donors. Our focus is both on increasing the number of entrepreneurs in sectors like agri, healthcare, tourism, ICT, education and logistics while finding the most promising ones and scale them to success.
We reach out to bring know-how from around the world to Sri Lanka and in doing so, we involve international experts and diaspora leaders to support our entrepreneurs. In 2018 there were speakers and mentors from the United States, South Africa, Germany, Israel, and South Korea who shared their experience in international expansion, scaling up, pitching to investors, how and where to get funding.
Identify the most promising startups in Sri Lanka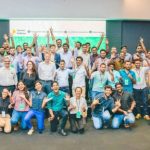 Through the Startup Boot Camps, two-day events that took place in Colombo and Jaffna Venture Frontier provided extensive business development training, mentorship and pitching support to the best 30 idea, seed and early-stage Sri Lankan startups.
Challenge Sri Lankan entrepreneurs to reach global
We worked our way to become the partner of every aspiring Sri Lankan entrepreneur seeking to scale their venture nationally and globally. We organised in November The National Startup Challenge with the purpose to identify the top 30 ventures at the national level, to train and mentor them extensively and to provide practical support with their regional growth strategy.
Invite Sri Lankan women entrepreneurs to raise their voices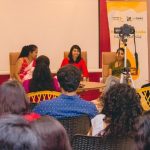 There is still a lot more to do, to develop the startup ecosystem in Sri Lanka. Apart from providing development content and leveraging international connections, Sri Lankans have big social issues when it comes to the labor force. Recent studies show female participation at 40%, significantly lower than for men (75%). Unemployment rates are also remarkably higher for women and among SMEs, only one out of four entrepreneurs is a woman. This is why we created a new series of projects to celebrate women entrepreneurs and amplify their voices and impacts in entrepreneurship, business, and innovation. The first edition comprised of a panel discussion formed of female leaders from various fields and stages of career who shared their strategies, approaches, and tools for success.
What's coming up next? Accelerating Startups' Success
There are some studies estimating that between 60 and 90% of startups fail so that we plan to pioneer an Accelerator to change the statistics and help entrepreneurs succeed. The Startup Accelerator is designed to be a three-month, intensive program to be held in Colombo mid this year. Fellows will experiment together to implement top startup strategies with the guidance of experienced entrepreneurial mentors. The program will include investor panels and meetings, opportunities to network and have consultations with legal and financial professionals, exclusive opportunities to seek feedback from the community.
We are currently launching in Bangladesh with the same goal to nurture and grow the startup ecosystem. Venture Frontier Bangladesh is focused on becoming a partner to every aspiring Bangladeshi entrepreneur seeking to scale their venture nationally and globally.
As we believe there are many people with a higher dose of entrepreneurial spirit to tackle today's problems, we designed a new initiative that creates an entrepreneurship ecosystem for ocean-focused ventures. Venture Frontier Blue Oceans will be active in both Sri Lanka and Bangladesh and forge ahead in finding solutions for effective and innovative ocean clean-up efforts as well as reinvent the use and disposal of plastics.
We invite you to partner with us to bring Venture Frontier capabilities and support to the most promising entrepreneurs around the world.
Contact Info: www.linkedin.com/in/bujorean ovidiu@ovibees.com.