As with all USAID projects, funding for USAID's Private Financing Advisory Network-Asia (PFAN-Asia) is time-limited. Generally, these projects last between three-five years and when funding ends, so too does the activities and associated impact. So, how can a project with a finite lifespan maintain, and even potentially increase its impact over time? The answer lies in designing the project for sustainability starting on Day One.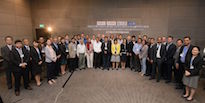 PFAN-Asia is a five-year program funded by USAID's Regional Development Mission for Asia (RDMA) that facilitates investment for clean energy projects in 12 countries across South and Southeast Asia. The program provides advisory services to promising clean energy companies raising capital, assisting them with the preparation of the necessary documents for investor engagement. To date, PFAN-Asia has mobilized more than $802M in financing for 68 clean energy projects across the world. These projects have the potential to mitigate 2.5 million tons of CO2e, roughly equivalent to the annual energy usage of 230,000 homes in the USA.
SSG Advisors serves as a major subcontractor to Deloitte Consulting on PFAN-Asia and has been leading the effort to identify and prepare a local organization to carry on PFAN-Asia activities on a sustainable basis after the program's funding concludes. Significant progress on these objectives has been made over the past year and a half by engaging with an array of stakeholders, gathering feedback from the clean energy community, and establishing a firm understanding on the metrics for success.
The road to sustainability consists of two main parts: 1) Designing and executing a transparent approach to selecting a capable local organization; and 2) Working with the selected organization to prepare it for a potential award from USAID and to assume control of PFAN-Asia. These two activities are further divided into five sub-activities as shown in Figure 1 below.
In order to promote the solicitation to the largest range of potential local organizations, a two-stage tender process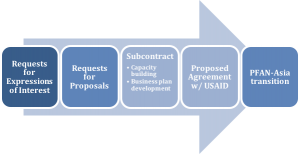 was used, consisting of a Request for Expressions of Interest (REOI) and Request for Proposals (RFP). The first stage, the REOI, was released publicly and promoted across multiple channels, including through the global PFAN network, professional portals such as DevEx and LinkedIn, as well as directly to organizations identified as having the requisite capability and Mission alignment. By the time the REOI window closed, 25 organizations submitted their interest in becoming the future operator of PFAN-Asia. The organizations came from throughout the 12 PFAN-Asia countries, and offered deep expertise in clean energy across the region.
A structured evaluation process allowed multiple stakeholders to participate in the review of the EOIs. Evaluators assessed each EOI along multiple scoring dimensions, including the Offeror's organizational history and structure, experience in arranging clean energy financing, geographical experience, technical staff, and proposed approach to sustainability. Independent scoring of the EOIs by each of the evaluators resulted in uniform consensus for a shortlist of five organizations.
Following the REOI process, the RFP was released to the five shortlisted Offerors. In response, PFAN-Asia received four proposals, with two of the five bidders combining their efforts into a single submission. Proposals were once again reviewed and scored by the evaluation committee using criteria originally developed during the REOI process and further refined for the RFP. Based on the highest average overall points, a winner and runner up were chosen.
With the local organization identified, the project turned its attention to the next set of activities: Preparing the organization for potential funding from USAID. In order to receive funding from USAID, an organization must demonstrate rigorous and transparent business operations by successfully passing the Pre-Award Survey (PAS). The PAS thoroughly evaluates all operational aspects of a business, including its internal capacity for financial management, human resources, governance, administration, and organizational/program/project performance management. SSG led a capacity building assessment to identify existing organizational gaps,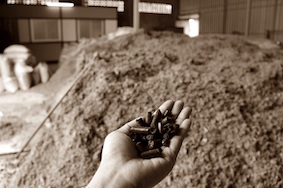 and develop a plan to address them prior to the PAS. In parallel, SSG is also advising on the development of a business plan that will lay out the long-term strategy that will shift the platform from donor to commercial sources of funding within the next few years.
Over the next six months, we will work continue to work closely with the winner on improving its organizational capacity, finalizing a sustainable business plan, and supporting the transition award process with USAID/RDMA. If all goes according to plan, later this year, Deloitte Consulting will hand over operational control of PFAN-Asia, after which it will be carried forward by the new local organization.
Through its support on PFAN-Asia, SSG is helping USAID/RDMA pioneer an innovative approach to providing sustainable transition awards to local organizations. PFAN-Asia's focus on sustainability from inception showcases a replicable model that USAID and other donors could apply to future program design that leverages local capacity to achieve impact that lasts, creating an investment with positive financial, social, and environmental returns for years to come.