By Dalia Eryani, Sr. Director of BD and Operations Support; David Kajotoni, Management Information Systems (MIS) Manager
The Impact of Data Visibility on Public Health Supply Chains
Effective healthcare delivery is highly dependent on, among other factors, well-functioning supply chains capable of delivering medicines and other critical commodities to the point-of-care, and ultimately into the patient's hand. Visibility over health facility stock levels and other appropriate controls are needed to inform decision-making and prevent pilferage and diversion as commodities move down the chain. In low- and middle-income countries (LMICs) these challenges are often magnified.
In 2017, Akesis, an organization focused on access to medicine and health system strengthening solutions in LMICs, set out to address these gaps. Akesis developed a web- and mobile-based solution that would provide the real-time GPS location of health commodities in transit and real-time confirmation of other shipment details upon delivery to health facilities.
Building an ePOD System That Works in LMICs
Built on learnings from more than two decades of experience in over 35 LMICs, the Akesis Delivery System (ADS) is a responsive Electronic Proof of Delivery (ePOD) tool designed to improve line-item level visibility for health commodities.
"In developing ADS, we felt it was particularly important to design a tool that takes local realities into consideration," said Chuck Morrison, President, Akesis Health. "For example, most existing ePOD systems only confirm that the delivery was made. Yet line-item visibility is critical in the countries we work in. That's why we built ADS to also track the quantity and condition of the products delivered, as well as their exact location during transit and at delivery."
ADS is a web- and mobile-based (ePOD) tool designed to improve line-item level visibility for health commodities.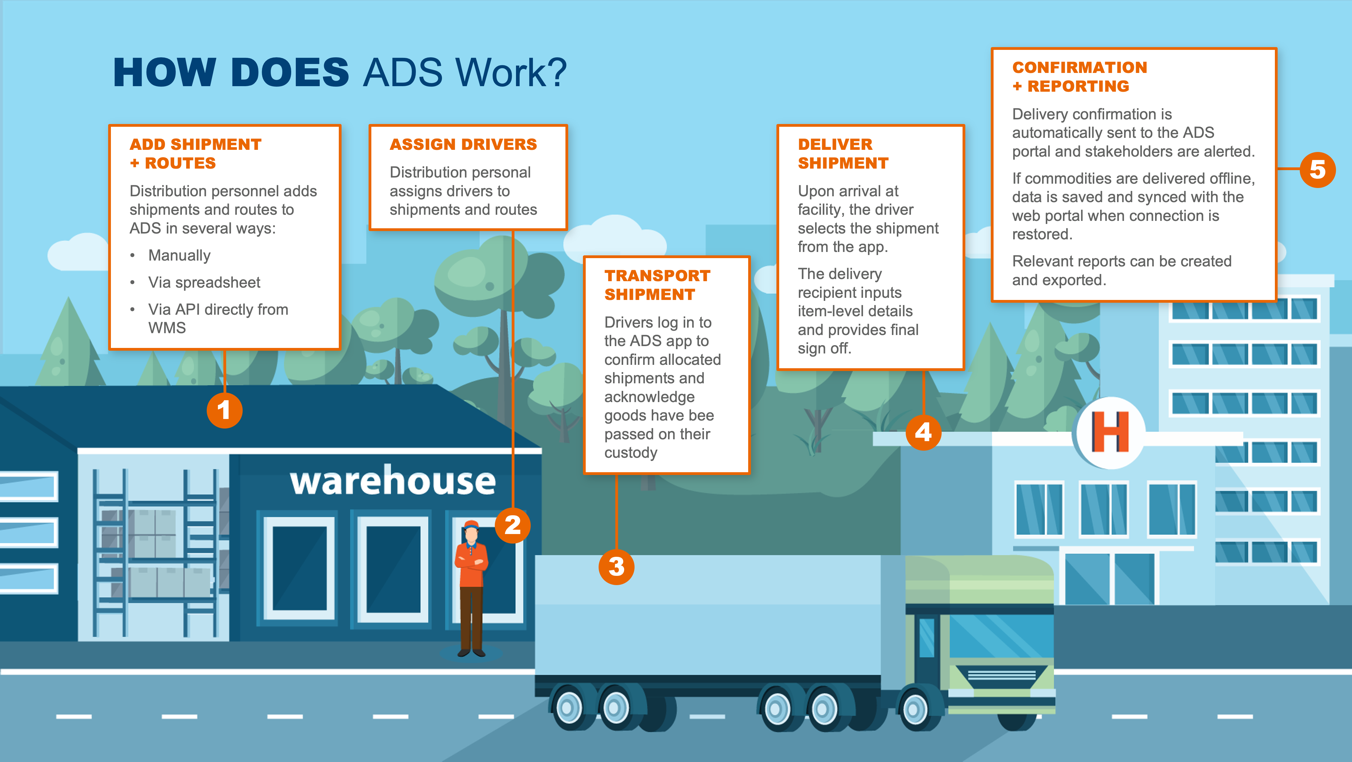 ADS was developed with a keen understanding of local distribution risks, technology preferences and LMIC limitations. The system tracks all shipments from the time they leave the warehouse to when they are delivered to the health facility via GPS technology. At the point of delivery, the recipient inputs item-level details, including quantity, temperature, condition, and time of delivery and provides final sign off. The system then adds the location (with coordinates) and generates a real-time report that is sent to all stakeholders. All data are collected at the warehouse before distribution and at the destination to determine discrepancies in quantity, volume and temperature. If commodities are delivered offline, data is saved and synced with the web portal when connection is restored.
ADS has been designed to facilitate and optimize the distribution process.
ADS also features user-friendly dashboards to enable users to quickly add information, view shipment status and download reports on demand.
"We wanted ADS to be easy-to-use in the field," said David Kajotoni, Management Information Systems (MIS) Manager. "Distribution and shipment information can be added manually, via spreadsheet or via API. Drivers can view their assigned shipments on their mobile phones and confirm deliveries before they even return to the warehouse."
Validating ADS in the Real World
ADS was piloted in more than 8,000 facilities in 11 states across the northwest and northeast regions of Nigeria over 5 years. ADS consistently and accurately provided real-time tracking and confirmation of delivery to health facilities. This enabled distribution teams to document the integrity of deliveries and provide donors with accurate data for planning purposes. The pilot also confirmed the feasibility of using ADS in the field by capturing feedback from drivers, distribution managers and other personnel, as well as health facility staff.
"ADS has built-in control mechanisms that make it easier for us to be more proactive and ensure that minor discrepancies don't develop into larger problems, which is important to me as a Distribution Manager," said Ogwuche Odo, Warehouse Manager, Nigeria.
ADS provides a new, practical ePOD solution for healthcare supply chains in LMICs to support proactive decision making and risk management, build efficiency and enable more accurate reporting.
Learn more about ADS, at https://www.akesishealth.org/ads.