A small, woman-owned business and member of SBAIC, Connexus Corporation (www.connexuscorporation.com), recently organized the successful learning event, Cracking the Nut Health: The Role of Communities in Building Resilient Health Systems, in Washington, D.C. with significant support from USAID, among other partners (see www.crackingthenuthealth.com). From the many pressing "nuts to crack" in health system strengthening, the conference focused on three core themes:
Using measurement and analytics to improve accountability;
Leveraging partnerships to promote resilience; and
Scaling technology and innovation to increase impact.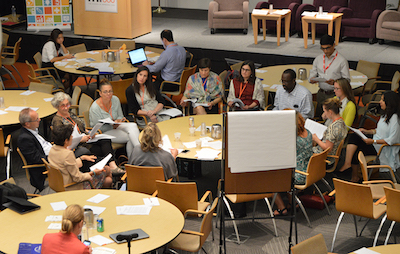 Participants rated the overall conference highly (with an average score of 4.3 on a scale of 1 to 5, with 5 = excellent). The participatory session that received the highest score was "From Data to Action: Guatemala's Health Indicators System," facilitated by Lorena Moreira, Information Systems Manager on the USAID Health and Education Plus (HEP+) project, implemented by Palladium. Her session highlighted the importance of good governance to ensure effective public data collection and use to improve the resiliency of health systems, which Connexus summarized as follows.
Ms. Moreira explained how Guatemala made a commitment to improve government transparency and accountability, resulting in significant benefits in terms of improved resiliency and responsiveness of its health system.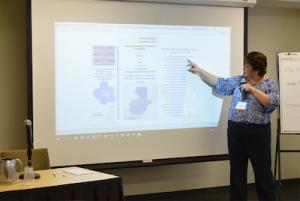 Traditionally, Guatemala has had some of the worst health systems in Latin America and, for this reason, the government made the bold commitment to mandate the use and maintenance of the National Social Indicators System, of which the Health Indicators system is a part of, with clear standards for information to ensure consistency of data entry by local health workers and to improve health sector decision-making. Guatemala's National Social Indicators System developed a website (www.hpp-gt.org/snis), which acts as a portal to provide information related to health outbreaks, such as Dengue, diarrhea and malaria, and predicts chances of outbreaks for surrounding communities. In addition, the portal provides information on budgets and expenses, as well as availability of provisional supplies and medicines by location. Not only is the portal accessible to all public health workers in Guatemala, it is accessible to the general public. According to Google Analytics, the site has 60,000 active users and receives an average of 500 visits per day.
Recently, the portal has been used to track the Zika virus, highlighting emergency alerts in southern Guatemala where, for instances, there were 14 cases reported for July 11, 2016. The portal shows that the Chiquimula community has been the worst hit so far, with more women than men getting Zika, probably because they are more likely to stay in the community. The Ministry of Health closely monitors this information, which is updated daily.
To further encourage use of the data, Palladium's HEP+ project recently developed a smartphone app, Saludinfo GT,
which does not require connectivity once the database is downloaded, making it especially useful for rural health workers. With links to social media, information and graphics can rapidly be shared with the public to inform them of changing health risks.
According to Ms. Moreira, some of the factors that have contributed to the success of Guatemala's information systems include:
An early commitment to designing a user-friendly interface, strongly based on visualization, so as to minimize the need for end-user training;
Decision to encourage "openness," including use of open source applications, architecture and access, which also reduced cost and thereby improved long-term sustainability of the system; and,
Documentation and systematization that allowed for the information system to be easily replicated and adapted for other government uses.
This is just one example of the discussions facilitated by Connexus at the Cracking the Nut Health conference, and will be featured in the upcoming publication, The Role of Communities in Building Resilient Health Systems: Lessons from the 2016 Conference. If you are interested in receiving an electronic copy of this publication to see other lessons learned, please contact crackingthenuthealth@connexus.email.