Water is humanity's most precious resource. Yet, every day roughly 45 million m3 of water goes missing from global water systems. This water loss is enough to serve nearly 200 million people and costs utilities approximately US$14 billion each year, equal to a quarter of the total annual investment in potable water infrastructure for all developing countries.[1]
Water systems in Africa are particularly vulnerable to water loss. On average, more than a third of the water supplied in East Africa disappears – processed and supplied by water utilities but lost due to leaks, theft, and metering errors. And as climate change advances, this water loss not only means a significant financial burden for public utilities, but also places communities at risk of water shortages.
This challenge has brought together USAID, Itron (a NASDAQ-listed technology and services company dedicated to the resourceful use of energy and water), MTN (one of Africa's largest mobile operators), and African water utilities in order to combat water loss in East Africa through a unique public-private partnership model. The partnership was developed and facilitated by SSG Advisors, a woman-owned 8(a) and HUBZone-certified small disadvantaged business that is part of the USAID/East Africa Planning for Resilience in East Africa through Policy, Adaptation, Research and Economic Development (PREPARED) Project. SSG Advisors is a subcontractor to TT ARD on the Project.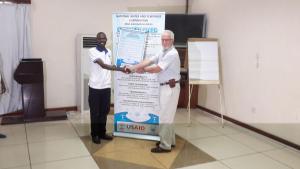 Through the PREPARED Project, SSG Advisors is currently piloting a partnership model with the Uganda National Water and Sewerage Corporation (NWSC) utility in Jinja, Uganda, a city of 70,000 on the shores of Lake Victoria. Using its Sustainable Transparent Effective Partnerships (STEP) methodology, SSG Advisors identified the partnership opportunity, designed the partnership, and serves as a secretariat for the partners.
Using cutting edge technology, Itron supports the water utility by providing management and technical tools to help the utility access real-time information about water leaks, illegal water consumption, and metering errors; streamline its management systems; and upgrade its infrastructure.
Meanwhile, MTN is leveraging its mobile network to support a Water Community Communication (WACOCO) platform for two-way communication between the water utility and its customers, allowing water users to share their feedback, report leaks and water theft, and register complaints on service delivery with the utility. The mobile operator is also integrating water billing to mobile money payment, which will make it easier for customers to pay their bills and thereby increase NWSC's revenue.
For its part, the USAID PREPARED Project has developed more than a dozen quality service improvement program tools for use by NWSC. These tools include the commandments of quality service, customer obligations, service standards, and customer feedback instruments.
The partners estimate reducing water loss in Jinja by 20 percent by the end of the first year – resulting in substantial financial savings for the water utility, conserving a scarce and valuable resource, and increasing the responsiveness of the utility to community needs.
While the Jinja pilot holds promise, the goal is to scale up the partnership model across the region. The next site will be Rwanda, where partners recently developed their one-year strategy, and estimate reducing water loss from 68 to 40 percent in Nyagatare, 64 to 60 percent in Musanze and 35 to 30 percent in Kigali.
Using these pilot partnerships as proof-of-concept, SSG Advisors is now working to develop an innovative financing tool that will enable water utilities to finance the upfront investment cost by amortizing the savings from water loss. This will enable any utility in Africa to access the technology without outside financial support. By combining cutting edge technologies with innovative finance, SSG Advisors is enabling USAID to catalyze systemic change across East Africa to enhance climate resiliency and conserve the region's most precious resource.
---
[1] B. Kingdom, R. Liemberger, and P. Marin, (2006), "The Challenge of Reducing Non-Revenue Water in Developing Countries," Water Supply and Sanitation Sector Board Discussion Paper Series, Paper No.8, http://siteresources.worldbank.org/INTWSS/Resources/WSS8fin4.pdf.