The vote by Britain to leave the European Union – "Brexit" – has caught the attention of the Caribbean, which has long taken its own regional integration process for granted. Brexit also raises very practical concerns for the region. DevelopTradeLaw, LLC (DTL) has worked with

governments, regional organizations, and business support organizations across the Caribbean to advise on and support implementation of the region's trade agreements and trading arrangements. These arrangements have included the CARIFORUM-EU Economic Partnership Agreement (EPA) signed between the European Union and fifteen (15) Caribbean countries (including the Dominican Republic and Haiti) in 2008.
Britain's trade relations with the Caribbean are currently shaped through the lens of its EU membership. The EU is the Caribbean's second largest trading partner, behind the United States. Although Britain is one of 27 EU signatories to the EPA, Britain is the primary market in the EU for Caribbean products and services. Britain and the United States are the two major buyers of the Caribbean tourist product – the region's economic mainstay.
The post-Brexit decline in the British pound has made Caribbean products and services more expensive. The region is gearing up for a decrease in product exports to Britain and in tourist arrivals from Britain. Furthermore, it is expected that Britain will become very inward-looking as it shapes its post-Brexit future over the next couple of years. All of this makes likely a vacuum in UK-Caribbean trade relations.
What does this have to do with the United States?
These anticipated developments increase the urgency for the region to diversify export markets to minimize the negative impacts of Brexit. As its closest and biggest market, the United States remains the ultimate destination for established companies as well as for emerging entrepreneurs and SMEs.
USAID works to give people access to markets where they can sell their goods and services. USAID programs also encourage private sector growth to spur economic development. The post-Brexit period presents an opportunity for USAID to increase its economic growth and trade activities in the region to fill this emerging vacuum in UK-Caribbean trade relations.
As a consultant/customs and trade attorney in the region, here are some of the issues DevelopTradeLaw (DTL) has encountered in its work with government and private sector clients:
· Need for access to information on the opportunities to trade with the United States:
Over thirty years ago, the Caribbean Basin Economic Recovery Act (CBERA) initiated the Caribbean Basin Initiative (CBI) program to enhance economic stability and democracy in the Caribbean and Central America. At that time, USAID supported structures that would grow the private sector and created forums for information-sharing and business development. These efforts facilitated the emergence of businesses operating in such non-traditional industries as manufacturing, agri-business, and seafood.
Sadly, 30 years later there is an entire generation of entrepreneurs and small businesses that is uninformed about the CBI. In 2014, at the invitation of the U.S. Department of State we conducted US-sponsored workshops in Barbados, Grenada, and Jamaica on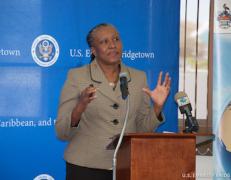 "Maximizing Opportunities Under CBI". We repeatedly heard expressions of amazement that the program had not died with President Reagan!
This lack of awareness suggests the need for more information-sharing forums to educate a new generation of entrepreneurs. USAID can play a role by supporting on-going interventions to raise awareness about the opportunities under CBI to export to the United States. These may include in-country workshops, or alternatively approaches similar to the USAID-funded Briefing Room (2005) for which DTL wrote a series of articles that educated Jamaican businesses on the country's trade and economic relationships.
· Need for technical assistance with CBI rules and regulations:
The 2014 workshops have already generated interest in using CBI to export to the United States. DTL has received requests from entrepreneurs and government agencies for additional assistance in understanding and applying the complex CBI rules of origin. Global supply chains that make it easier to source ingredients from around the world add to the challenge of ensuring that newly developed products comply with CBI rules of origin. DTL has advised those established entities able to pay for our services. However, there is a broader pool of emerging entrepreneurs and SMEs who need access to:
I. Information on CBI/CBERA trade rules; and
II. Trade experts able to provide specific technical assistance on a case-by-case basis.
We propose that USAID support the creation of a resource base on CBI/CBERA rules and training of in-country experts capable of providing the needed technical advice.
· Need for technical assistance to address non-tariff barriers to increased trade:
Weaknesses that are impeding regional private sector growth include the high costs of energy and of complying with sanitary/phyto-sanitary (SPS) requirements, and the limited access to financing, particularly for SMEs. DTL has encountered numerous programs, forums, and entities working separately to address these issues. USAID can play a key role by supporting mechanisms for ongoing dialogue to develop lasting and systemic solutions to these barriers.
DevelopTradeLaw, LLC is a woman-owned SBAIC associate member that provides trade capacity-building support services with particular expertise in customs and international trade law and policy.