Senior Gender Advisor, Juárez and Associates
"The most effective approaches to development can be envisioned as a 3-legged stool – reproductive rights, basic education and gender equality. As a firm guided by a vision of sustainability, we know that providing opportunities to women and girls is the most important investment any country can make in advancing development for all of its citizens."
(Nick Juárez, J&A)
Nick Juárez, founder and president of Juárez and Associates (J&A), has been a lifetime advocate for equality, inclusion and sustainable development. J&A, a research and consulting firm with over 40 years of experience working with USAID is a long-time champion of building capacity for marginalized populations while ensuring gender equity in development programs.
As a small business, J&A has the organizational flexibility to easily and effectively partner with local organizations and stakeholders. As a minority-owned business, J&A fully understands the value of diversity and how to successfully work in a range of challenging environments. These two distinctions are key to gender integration, which requires partnering with local institutions sensitive to diverse cultural and philosophical orientations, which is often the root of gender stereotypes and inequalities.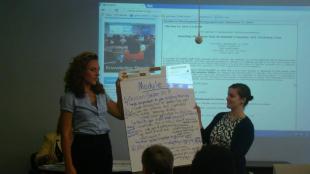 The attention paid to addressing gender gaps over the past 20 years has resulted in powerful international frameworks, policies, research and innovative strategies being developed by committed firms and organizations worldwide. J&A knows that it is not one single component or strategy, but all of this knowledge and experience that can help to turn the tide on advancing gender equality and empowerment. J&A works with a variety of partners to harness the necessary resources and expertise for designing and implementing more comprehensive, relevant and effective strategies to support gender equity. One way we are doing this is through a community of practice we initiated earlier this year where a select number of gender specialists from a host of USAID implementing organizations gather monthly to discuss a reading, case study and/or video in an effort to further explore ideas, exchange information, and develop, strengthen and renew skills.
Additionally, since 2010, J&A has co-chaired the Society for International Development's Gender in Development (SID-GID) Workgroup, initially with QED, and now with Cultural Practice, a women-owned small business and fellow SBAIC member. The SID-GID Workgroup has focused on facilitating events that cut across strategies and bring a variety of perspectives on sharing of information and practices, monitoring & evaluation (M&E) and adaptation for scaling of successful models. Examples of past events that highlight organizations' efforts to build capacity in gender include the "Making it Stick: Successes, Setbacks and Game-changers in Creating Gender-Integrated Institutions" where panelists from FHI 360, Lutheran World Relief and Land O' Lakes International Development discussed their efforts to incorporate gender perspectives into their work, and a "Simulation on the Post-2015 Gender and Development Goals," where participants developed a brief set of recommendations on strengthening M&E for the post-2015 development framework, particularly in relation to tracking changes in the status of women.
Additionally, the SID-GID Workgroup spotlights frameworks and resources developed by donor and policy-making organizations,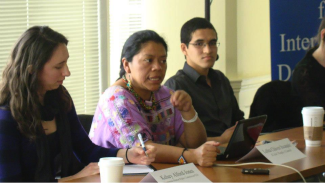 as is the case in our most recent event held in September 2014 entitled "Getting the Most Out of USAID's Gender 101 Training," which provided ideas for practitioners in adapting and integrating the Gender 101 resource in their organizations and programs.
Through direct project interventions, partnering with other committed organizations, supporting the dissemination of best practices, and assuming leadership roles in the development community, J&A proudly contributes to building capacity in gender integration. We look forward to continuing to contribute to the legacy of evidenced-based tools for future generations, to make development more effective and inclusive, and gender equality a reality for all.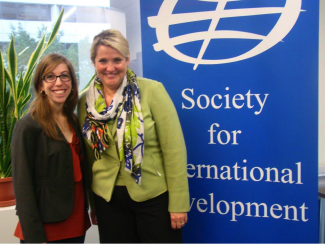 Co-chair of SID-W's Young Professionals Workgroup, Lillie Rosen, with Jennifer Collins-Foley, co-chair of SID-W's Gender in Development Workgroup
Young Professionals, Monitoring & Evaluation, and Gender in Development joint event: "Post-2015 What Makes A Strong M&E System?"