Making Cents International has been working with the U.S Department of State to build leadership skills and networks of Southeast Asian youth through the Young Southeast Asian Leaders Initiative (YSEALI). Launched in 2013, YSEALI is U.S. President Barack Obama's signature program to strengthen youth leadership development and networking in the ten ASEAN member countries: Brunei, Cambodia, Indonesia, Laos, Malaysia, Myanmar, Philippines, Singapore, Thailand, and Vietnam. Through in-person and virtual engagements, Making Cents works closely with YSEALI to build the leadership capabilities of ASEAN youth in civic engagement, environment and natural resources management, entrepreneurship and economic development, and education.
Youth Leadership Summit & Engagement
Making Cents designed and facilitated the flagship event for YSEALI in 2015 – the YSEALI Summit, held in Kuala Lumpur, Malaysia November 19-22nd. We brought together 490 young ASEAN leaders to facilitate their collaborative action and sow the seeds of future sustainable development of the region. Recognizing that youth engagement is essential to the success of ASEAN, our youth development experts worked with companies and NGOs from the region to design practical skill-building workshops to strengthen skills in the areas of youth engagement and advocacy as well as "soft skills" such as communication and conflict resolution.
Using Social Media and Video to Broaden Reach
The highlight of the Summit was a team challenge to produce an information campaign to raise awareness and instigate positive change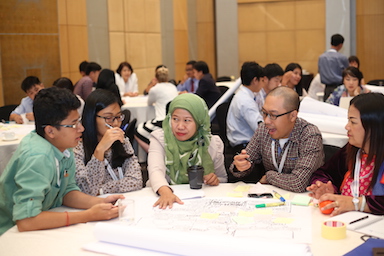 to address a key challenge within ASEAN. The results were video campaigns about topics such as inclusion and equal access to education. One video around inclusion of refugees in society, titled #OpenUrDoors, has already been viewed more than 22,000 times on Facebook. We also selected "digital delegates" from across ASEAN to share key Summit activities, highlights, and outcomes via social media to the 55,000 strong and growing broader YSEALI community. All participants were invited to engage with each other and this broader community using social media networks, before, during, and after the Summit.
Last but not least, we fostered networking by introducing an interactive and engaging high-tech alternative to the traditional business card – an electronic business card device and paper-free, green event platform. Using this device, participants were able to network easily, instantly exchanging contact details and social media information with their fellow YSEALI members.
Learn more about Making Cents International and participate in our global youth events to get a first look at new research, case studies, policies and initiatives that increase the impact, scale and sustainability of youth programming.