Global community health workers have many challenges including burdensome workloads, weak pre-service education, poorly functioning patient management systems, and frequent low motivation. In many low resource countries, the health system infrastructure is not sufficiently developed to support the health issues of the local populations. WebFirst's client, Jhpiego, has developed a program called Standards Based Management and Recognition (SBM-R). SBM-R is an innovative and streamlined approach to standardization and implementation of best practices.
The SBM-R data management program currently collects and measures performance assessment data related to reproductive health. Examples of assessment data and observational data areas include: labor and childbirth, postnatal care, family planning, and community participation. However, given the low resource settings (i.e. poor Internet connectivity) in many countries, paper forms are commonly used to collect the assessment data which is then later entered into a web based tool; often, weeks after the performance assessment has been completed. The assessment data is later used to provide training in the areas of best practices for Jhpiego trainers.
To further streamline and support these low-resource settings, WebFirst worked closely with Jhpiego to develop an Android mobile application to collect the assessment data. The mobile app is currently in the pilot phase in four countries – Tanzania, Angola, Malawi, and Ghana. WebFirst put together a team consisting of a project manager, subject matter experts, android mobile app developers, designers, and trainers to develop the SBM-R mobile app. The application allows for the offline (and online) collection of performance assessment data. WebFirst ensured the mobile application would integrate seamlessly with Jhpiego's existing MS SQL Data Management Repository. This is accomplished via a Web service, allowing data collected on the mobile device to be uploaded to the SBM-R Web Application Database. WebFirst designed the mobile application to not only collect offline data, but then to automatically sync the data to the repository when there is access to a WiFi or cellular connection. WebFirst then trained Jhpiego assessors on how to collect assessment data, create multiple observations, store the data locally (offline), and transmit the data. The assessors were comprised of MDs, Nurses, or M&E officers depending on the country. Facility managers see the raw results and district managers are able to see baselines and followups. We learned quickly that a robust level of reporting capability both on the mobile app and on the desktop was an important requirement to the data managers.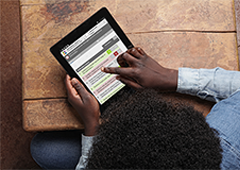 WebFirst's app helped Jhpiego support the USAID GHI mission of strengthening health systems through the application of cost-effective interventions (assessment tools). This mobile application has had a positive impact upon the communities it supports by providing a valuable training aid and analysis tool to health workers. The strength of the entire system allows Jhpiego, and potentially other organizations, to easily build their own assessments and checklists for any number of health procedures – from Ebola protection gear and procedures to primary care physicals. These checklists will serve to improve the overall quality of health care, and reduce the occurrence of medical errors. They are written guides that help health workers learn key steps in complex procedures. WebFirst is proud to have been instrumental in the development of this Android mobile app which has the functionality necessary to support a wide variety of programs in low resource settings across multiple domains.
WebFirst provides award-winning technology consulting in the areas of global health, international development and education. We combine our subject matter expertise in health and education with the latest technologies in web, mobile and data collection to help our clients solve problems. Our tools are used in monitoring and evaluation, mapping and GIS, health indicator databases, surveys, data visualization and workflow applications. WebFirst is particularly experienced in building systems based on open source, high-quality, affordable platforms such as Drupal, ODK, Phonegap, and HTML 5. WebFirst has developed interactive off-the-shelf and custom applications for Federal and NGOs (USAID partners). Our staff is comprised of a cohesive, multi-disciplinary team of highly skilled subject matter experts (e.g. biomedical engineers, nutrition experts, & public health analysts), usability experts, developers and designers. As a testament to our work, our websites have won several awards including a 2014 W3 silver Award and a Webby Worthy award in education. (www.webfirst.com)