The USAID Education Office at the Bureau for Economic Growth, Education, and Environment (E3) works to provide quality educational services, primarily at the basic and tertiary levels, and access to education in conflict and crisis settings. With the culmination of USAID's 2011-2015 Education Strategy, and the recent renewal of the goals in the strategy until 2020, USAID and its partners have been very busy working to improve basic education worldwide.
Recently, Juarez & Associates' (J&A) education experts from Guatemala, Jamaica, and the U.S. joined USAID and other education researchers, practitioners, leaders and partners in Washington, DC for the 59th Annual Comparative and International Education Society (CIES) Conference. The conference, which took place March 8-13 at the Washington Hilton, explored the theme, "Ubuntu! Imagining a Humanist Education Globally." J&A's education team presented at six sessions on topics such as parental engagement in early childhood education, cross-border education and emerging issues, building coaches' capacity to support fluency and comprehension instruction, enhancing educational access via online curriculum, and early grade reading measurement and results.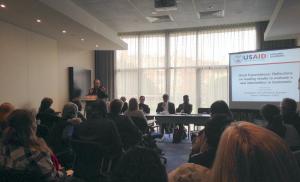 Fernando Rubio, Juarez & Associates' COP for the current USAID/Guatemala Lifelong Learning Project presents "reflections on reading results to date" at the CIES Conference in Washington, DC.
USAID recently awarded two new Indefinite Delivery Indefinite Quantity (IDIQ) contracts designed to provide support to basic education programs for children and youth around the world. The awards are structured to support up to $1 billion in activities over five years: $500 million in activities to improve reading skills for up to 100 million children in primary grades (Goal 1); and $500 million in activities to increase access to education in crisis and conflict-affected environments for 15 million children (Goal 3).
J&A was one of three small businesses awarded the Advancing Basic Education: All Children Reading (ABE ACR) IDIQ, 2014-2019. The purpose of ABE ACR is to provide technical assistance and services to improve student reading in the primary grades in developing countries, particularly in grades 1 to 3. The contract builds on services provided by J&A and others under a predecessor IQC: Assistance to Basic Education – Basic Education (ABE-BE) which recently ended. J&A's ABE ACR consortium of partners include the Louis Berger Group, the International Literacy Association, and Mariposa Consulting, as well as a handful of local and regional organizations throughout the developing world.
As a sub to both a large business and a small business on the Advancing Basic Education: Access for All (ABE ACCESS) IDIq, J&A will be contributing to ABE ACCESS's goal of supporting safe and equitable access to education for children and youth living in crisis and conflict affected environments. Both USAID awards will provide technical assistance and services including examination of education policy, delivery of services, management information systems, data management, planning, teacher training, student assessment, reading interventions, and community engagement.
Throughout its 44 years of operations, J&A has tirelessly supported primary education through mechanisms such as these for USAID. J&A has extensive experience with language programs which incorporate components essential to successful learning in Grades 1-3, and has helped to increase early grade reading through teacher professional development, designing curricula for Grades 1-3, and aligning curricula, materials and assessments with international standards and local context. J&A's technical assistance in M&E includes development of indicators and measures for performance monitoring, capacity-building in educational M&E, sector assessments, and mixed-method research design. J&A also has adapted the Early Grade Reading Assessment instrument (EGRA) to country contexts. Technical assistance in EGRA has included assistance in administering the EGRA, developing curricula to support improvement in those areas in which EGRA can assess, and supporting greater accountability in reading. Gender equality and workforce development are cross-cutting themes in J&A's education projects. We design appropriate materials to address gender stereotypes through participatory instructional techniques to eliminate practices that impede gender equality. We also help youth realize greater economic self-reliance, higher levels of civic engagement and educational achievement. J&A posits that providing opportunities for youth is a preventative measure to reducing conflict and violence in the long term and supports sustainable livelihood pathways.
J&A, under the ABE ACR and ABE ACCESS IDIQ mechanisms will be working hand-in-hand with two recently created communities of practice launched by USAID: 1) The Global Reading Network – a network comprised of governments, practitioners, civil society organizations, teachers associations, academics, funders, UN agencies, and other stakeholders committed to improving reading outcomes for primary grade children across the globe; and 2) The Education in Crisis and Conflict Network (USAID ECCN) – a community of practice that will build evidence and capacity to attain USAID's Goal 3 of increasing equitable access to education in these environments for 15 million learners by 2015.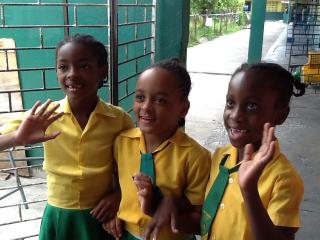 Local school girls at one of the 250 schools funded by the USAID/Jamaica Basic Education Project implemented by Juarez & Associates, 2010-2013.
USAID is also supporting a regional community of practice in the area of reading, called the Latin America and Caribbean (LAC) Reads Project. The LAC Reads Project offers a suite of programs whose partners work collaboratively to increase the availability and understanding of evidence for improving early grade reading and boosting the capacity of key stakeholders to implement evidence-based, cost-effective practices in early grade reading. The American Institutes for Research (AIR) – in partnership with J&A, the Organization of American States (OAS) and organizations across the LAC region – are implementing the five-year USAID LAC Reads Capacity Program, effective 2014-2019, which is one of a handful of projects being implemented under the LAC Reads Project. J&A will be working in four of the eight targeted countries (Dominican Republic, Guatemala, Jamaica and the Eastern Caribbean countries) to increase the impact, scale and sustainability of early grade reading interventions by developing state-of-the-art knowledge resources and providing technical assistance to the governments of host countries and other key stakeholders. These efforts aim to boost early grade reading outcomes, particularly for poor and disadvantaged children. By the end of the program, these countries along with the other targeted countries in the LAC region, will have the knowledge and resources to a) implement early grade reading practices that are evidence-based and sustainable and b) continually evaluate the effectiveness and impact of those practices.