Innovation brings efficient water and energy services to Armenia
ME&A (Mendez England and Associates) is currently implementing the USAID funded Clean Energy and Water Program (CEWP) in Armenia. This $5.6 million program provides support to the Government of Armenia (GoA) in its efforts to enhance Armenia's energy and water security and improve climate resilience through improving integrated energy and water resources planning. The CEWP works at the community-level to improve energy and water management practices through capacity building and the implementation of small-scale pilot demonstration projects to demonstrate to public and private sectors, and to communities the benefits of applying new approaches and innovative technologies.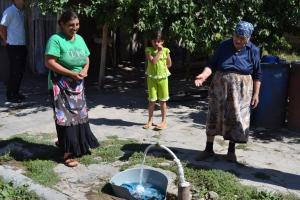 Through utilizing modern efficiency-based approaches to drinking water supply, LED street-lighting, radiant and solar heating, indoor lighting and improvement of general building conditions, CEWP has completed 14 demonstration projects in six regions of Armenia, thus providing nearly 50,000 people in the poverty-stricken rural and small urban centers of Armenia with improved energy and water services and at the same time realizing energy and cost savings. For example, the village of Darbas is now able to reduce its energy costs by at least $2,200 annually with new LED efficient lighting. The LED lamps provide an alternative to traditional incandescent lighting that significantly improves the efficiency, longevity, and quality of lighting systems. LED bulbs also contain no environmentally harmful substances and can be recycled.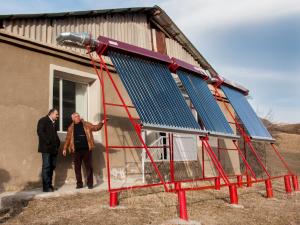 The project has also introduced: solar air heating, which utilizes vacuum-tube solar collectors to harvest the sun's natural energy, and provides a renewable source of heated air for facilities in rural areas during Armenia's bitter winters; radiant heating which employs infrared rays to heat the objects and surfaces in a room directly, instead of heating the air in the room in order to indirectly heat objects; and biogas production that uses the process of anaerobic digestion (the organic breaking down of biodegradable material in the absence of oxygen) to produce biogas consisting largely of methane, replacing the need for fossil fuels and producing a byproduct that can be used as a quality fertilizer. At the SOS Children's Village in Kotayk, solar water heating systems provide a renewable source of hot water and saving more than $4,000 a year in reduced energy costs.
The CEWP has introduced technical tools and mechanisms for improving integration management of the country's water resources and developed a Decision Support System (DSS), to provide analytical information for river basin management planning and water use permitting. The DSS, a customized geographic information system (GIS)-based application, is capable of generating sophisticated hydrological, economic, and climate change models for threatened rivers and water basins throughout Armenia.
The DSS was made possible through the application of RapidEye satellite images of the Republic of Armenia. The satellite data resulted in a mosaic of images, compiled into an accurate land cover and uses descriptions containing precise statistical information, and confirmed through ground-truthing activities. This information was used to develop pilot basin management plans for 3 rivers within Armenia. The plans characterize two river basins, including assessments of the hydrological and hydrogeological conditions, ecological flow, existing water use patterns, natural and anthropological pressure-impact analyses, the delineation of water bodies, and analyzing the change in land use trends.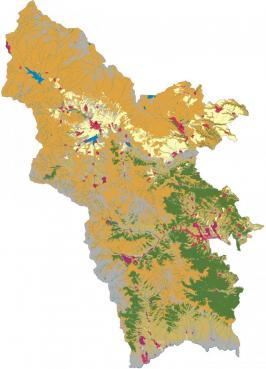 The CEWP will also support the establishment of a Water Center of Excellence, to bring under a single roof the technical knowledge, advanced technology (such as the GIS-based DSS, remote sensing technologies, etc.) and analytical skills required for continuous support to the Government and other stakeholders in implementation of integrated water resources management. It is envisioned that the center will serve as a technical resource base, training center and a forum where all stakeholders, both public and private, may interact.