For the past five years, Solimar International, a sustainable tourism for development consulting firm and subcontractor for the USAID Tourism for All Project in Timor-Leste, has supported the development of a Destination Management Organization (DMO) in Timor-Leste's Ataúro Island. Comprised of local tourism providers and community representatives, Asosiasaun Turizmu Koleku Mahanak Ataúro (ATKOMA) has gained national and international recognition for its efforts to sustainably develop and manage tourism on the island. More than just ensuring that tourism is managed sustainably, Solimar International's DMO model, which has been implemented in dozens of destinations globally, ensures the development project is designed to be locally sustainable from the start. Nearing the end of the USAID project in Timor-Leste, ATKOMA is a well-run, financially viable organization that has been sufficiently trained to continue their outstanding efforts long after the end of the project.
Ataúro Island is a 25km stretch of volcanic rock off the coast of Dili. It is home to the most biodiverse coral reefs in the world and a migration channel for critically endangered whales and dolphins, making it a blossoming tourism industry unlike anywhere else on Earth. As one of the youngest countries in the world, Timor-Leste has struggled to develop alternative economic industries to support the incredible natural resources and beauty of the country. The USAID Tourism for All Project sought to expand opportunities in tourism for the country, ensuring that it delivered positive outcomes for conservation and communities as it developed.
Solimar International helped ATKOMA become the first DMO to legally register as an organization in 2019. It began developing a website for the island that has been critical to promoting ATKOMA's members and engaging visitors in unique experiences around the island. Since then, Solimar has provided ongoing technical support including guest services, booking management, website maintenance, tour guide training, and leadership development. Uniquely, ATKOMA was able to create a sustainable finance model even when tourism was at its lowest during the COVID-19 pandemic, charging a $2 visitor fee for each guest house and hotel on the island in exchange for marketing and booking support.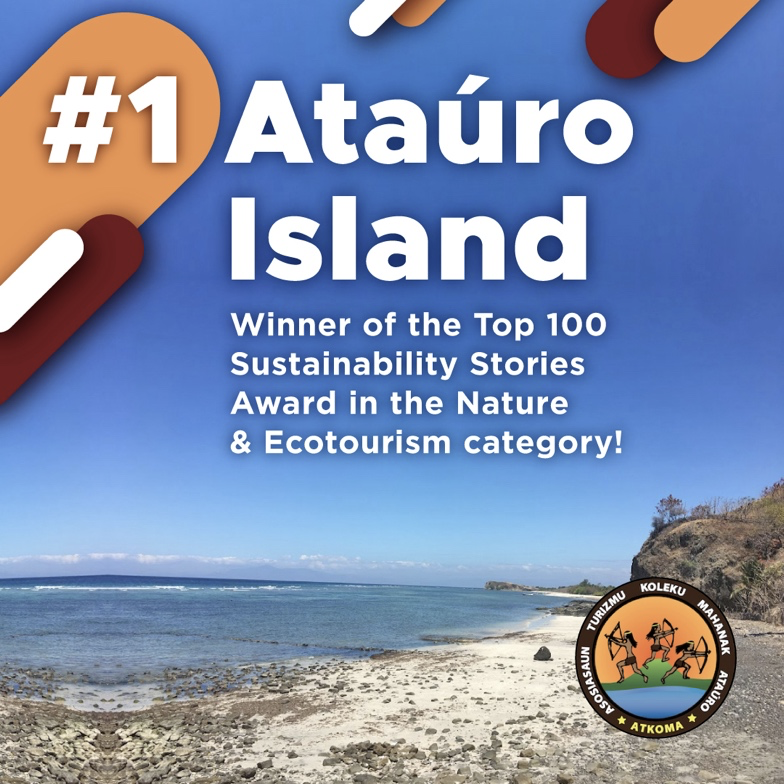 This fee, in addition to a variety of tours and itineraries offered by ATKOMA, has created a sustainable finance model for the organization to continue its activities. Many of the members noted that marketing benefits, while extremely beneficial, were not their primary motivation: the DMO is crucial to distributing tourisms' benefits around the island, ensuring that all communities gain from visitors rather than just a few guest houses. Both tourism and guest experiences have flourished as a result.
ATKOMA has gained numerous international recognitions for its efforts. In 2021, ATKOMA and the Ombai-Wetar Strait were nominated as a Whale Heritage Site. In 2020, this critical migratory corridor for whale and dolphin species, as well as the rich biodiverse reefs around the island, was also nominated as a Hope Spot by Mission Blue. Most recently, ATKOMA was nominated as a Top 100 Sustainability Story in Green Destination's international competition. During the awards ceremony at the ITB Berlin Conference in March, ATKOMA won first place in the Nature & Ecotourism Category, beating other internationally renowned destinations and demonstrating that true community-led tourism is the future of the ecotourism industry.
Solimar International continues to support ATKOMA daily and is working on a model that will enable long-term support beyond the end of the USAID project. The success of ATKOMA demonstrates the power of small businesses and using the private sector for good, recognizing that projects cannot be truly sustainable until they engage long-term revenue sources, like those available in the tourism industry. With the support of the Ataúro Island Council, ATKOMA's amazing members, and the USAID Tourism for All Project, Solimar International hopes to see ATKOMA continue to flourish for many years to come.