If you were to spend some time in Latin America traveling from one locale to another, you'd experience the uniqueness and flavors of its different cultures. That cultural diversity needs to be addressed when you are trying to communicate effectively with the people of Latin America.
Effective communication is the heart of JR Language Translations Services' mission, and Latin America is a region we are strongly connected to through our localization and translation services. Recently, JR Language assisted AFS and Sentio with the translation of cultural training videos into 7 languages, including Spanish and Portuguese for Latin American viewers.
The delivery of our language translation services would not be possible without time devoted first to research, particularly for a region as diverse in culture and language as Latin America. One common misperception of this part of the world is that the region consists of only Spanish speakers and cultures. To debunk this myth and define Latin America, the perfect place to start is by spotlighting the make-up of this region.
Latin America consists of the entire continent of South America, Central America, Mexico, and parts of the Caribbean. It's a collection of countries in which Romance languages are spoken as a primary language.
Romance languages are a group of related languages including French, Portuguese, Italian, and Spanish. Grammar and pronunciation are derived from what's known as "Vulgar Latin" — common speech of the ancient Romans; the ancestor of the Romance languages.
Colorful Cultural Differences Make Latin America Distinctive
Latin American diversity is shaped by the hands of its history, dating back to the early 1500s. The colonization effort by the Spaniards and Portuguese spanned three centuries!
The number of distinguishing cultures and different languages spoken are extremely diverse, like the vibrant array of flag colors you see.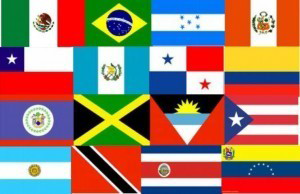 Breakdown of Latin American Languages
• Portuguese is spoken throughout South America, and is the primary language of Brazil.
• Spanish is most widely spoken in Latin America, and one of the official languages in all South American countries except Brazil.
• French is an official language in French Guyana, Haiti, and several areas of the Caribbean.
• Mayan is spoken as a native language by about 8 million people in Southern Mexico, Belize, Guatemala, and parts of Honduras.
• Quechua is a native language of South America, spoken in the Andean region, and is one of the official languages of Peru and Bolivia.
• Aymara is another official language spoken in Peru and Bolivia.
Here's a chart that displays a summary of the language distribution among the population of Latin America: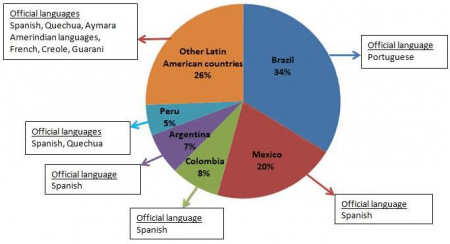 You will see that while Spanish is the official spoken language among over 60% of the Latin population, there are several other languages spoken, officially.
The 4th largest mobile Market in the World
On top of being culturally and linguistically diverse, Latin America is home to some of the most engaged social media users, and enthusiastic media consumers worldwide. Organizations who are on a mission to give their brand an international presence or spread an important message at a fast pace- would do well to reach out to audiences in the region. Here are some facts about the current digital atmosphere in Latin America:
Latin Americans spend more of their time online engaged with social media than users in the rest of the world. Facebook, a crucial platform for all types of brands and organizations, is used by over 230 million Latin Americans.
Over two-thirds of Internet users in Latin America are avid video viewers and a good portion of them are NOT avoiding video ads. In Brazil, 36% of Internet users, for instance, watch video ads daily.
In the last few years, online retail champions like eBay have launched localized sites in Latin America to tap into the consumer buying power in the region. The economy is at a standstill currently, but with the International Monetary Fund's expectation of recovery this year, there is hope that consumer confidence in the region will also follow.
Engaging Latin Americans by Speaking Their Language
Each year, JR Language Translation Services assists more organizations in their quest to connecting with Latin Americans. This pattern suggests that more people are discovering how influential this demographic (with a current population of over 600 million) is.
With each translation project we deliver for Latin American audiences, we have the responsibility of ensuring that the resulting product is completely accessible to them- by understanding the cultural and linguistic nuances the target locale(s), and incorporating them into each project.
Latin America brims with individuals of diverse backgrounds who are eager to learn about and engage with the world around them. JR Language feels privileged to have a role in satisfying this need, by bridging the language barrier between Latin American audiences and American organizations.