"Customs and trade reform are a critical part of increasing economic growth, but they are also areas that people generally know very little about," begins Glenn Mackenzie-Frazer, Chief of Party for USAID Bangladesh Trade Facilitation Activity (BTFA). For this month's installment of IBI's "Featured Expert" series we caught up with Glenn to discuss the importance of customs reform and trade facilitation.
Velyn Crosby: All right, let's dive right in. If you were talking to someone you had just met, how would you describe what "customs reform" is, and its importance to development?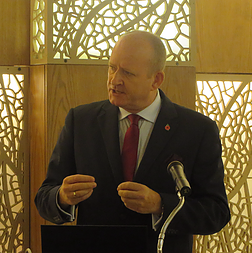 Glenn Mackenzie-Frazer: When I started working in this field, customs reform projects were purely focused on improving customs processes, procedures, and systems. This was all seen as a distinct part of larger anti-corruption initiatives within governments, but there were still a number of missing links. We needed to bring the conversation full circle, and really answer, Why are we carrying out customs reforms? Well, we're doing it because we're creating a business enabling environment to promote investment in developing countries. Over the last 10 years, the conversation has changed to reflect this, and trade facilitation activities have been fully incorporated into customs reform projects.
Stakeholders need consistency when they're declaring their goods at the border. They need precise answers to questions such as: How long it will take for my goods to cross the border? How much will my organization have to pay? When can I expect the delivery of my goods? Will my goods be physically examined and removed from their packaging in a disruptive manner? So customs reform and trade facilitation projects like BTFA focus on helping governments provide stakeholders with answers to these questions through consistent, reliable, and effective service delivery. This gives investors and businesses the information they need in order to have confidence in a country.
For more information on USAID-BTFA, please check out the rest of our interview with Glenn Mackenzie-Frazer at IBI's Newsroom.