Ensuring the availability and management of water and sanitation for all (or SDG6) has been highlighted as part of the most pressing issues by the United Nations 2030 Agenda. Lack of access to clean water and proper sanitation affect all aspects of human life in every country across the globe, having the largest negative effects on developed countries and marginalized communities. About 36% of the global population live in water-scarce regions, with more than 2 billion people having no other choice but to consume contaminated water.
Water scarcity is expected to displace 700 million people by 2030, while desertification will put the livelihood of 1 billion people living in 100 countries across the world at risk by 2050. Despite these risks, farmers, businesses, and households appear to still have very few incentives to consume less water, maintain water quality, or allocate funding and resources to ecosystems or social objectives.
In order to fulfill the objectives of SDG 6, the High-Level Panel on Water called for a "fundamental shift in the way the world looks and manages water", noting that a 40% shortfall in water availability could be expected if no actions are taken.[1] Fortunately, the remarkable technological advances which have been thrust into the limelight by the Fourth Industrial Revolution (4IR) have provided new tools to accelerate the progress towards meeting the targets set in the 2030 Agenda.
This umbrella term encompasses a range of new, emerging and disruptive technologies such as Artificial Intelligence (AI), Big Data, the Internet of Things (IoT), Blockchain, Drones, and Virtual and Augmented Reality (VR/AR), to name a few. The 4IR provides revolutionary methods of organization, production and distribution based on digital transformation and automatization that can erase limits between physical object, turning them into a comprehensive complex system of interconnected and interdependent elements.
AI provides opportunities to address worldwide environmental challenges, as it allows decision-making processes regarding water to be data-driven. It further can be used in building climate change resilience as it can inform better scenario planning and forecasting to improve resilience at all levels of society. IoT and Big Data can be used for ensuring water quality through the use of sensors which collect data pertaining to water flow, quality and quantity. Water transparency and cooperation for smarter water management has been made possible with the emergence of Blockchain.
By providing a secure, transparent and distributed public ledger that records transactions between parties, Blockchain mitigates the possibility of hiding or manipulating water quantity and quality data by corrupt governments or corporations. When we "marry" Blockchain and IoT we can make cities' water systems smarter, sager and more efficient. Drones have been hailed as technological 'game-changers' as they can be used for the inspection of pipelines, sewer crossings, joints, pipework and beams, lowering costs for their manual inspection.
Furthermore, drones have the ability to improve the accuracy of water quality predictions, as well as reduce the manpower necessary to physically collect samples. AR/VR can train employees that are involved in the operating and maintaining water treatment plants, thus enhancing performance and services of water utilities and lowering their operational costs. These technologies can improve water security, thus mitigating the negative effects of using unsanitary water.

---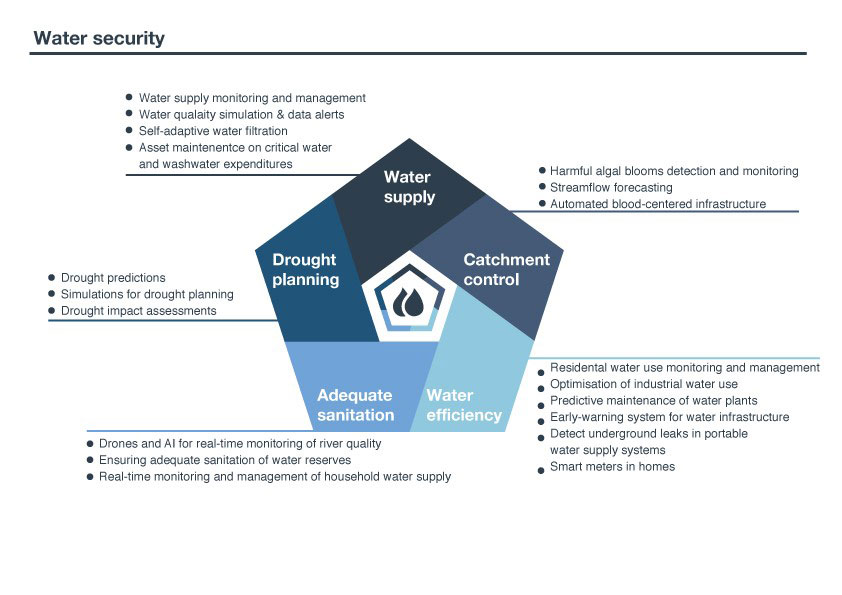 Tambourine Innovation Ventures (TIV) is authoring a report for the Inter-American Development Bank (IADB) titled "Use of 4IR Technologies in Water and Sanitation in Latin America and the Caribbean (LAC)". Countries in LAC have acknowledged the importance of meeting the challenges set out by the SDG6, and have begun tacking two main obstacles – closing the institutional gap but adapting policies, regulatory frameworks, programs, financial strategies, and sector capacities; and closing the information gap by adapting methodologies and instruments so they can collect information in accordance with the SDG established indicators.
As current water and sanitation problems cannot be solved with conventional methods, the report seeks to provide an overview of some of the current applications of key 4IR technologies in the water and sanitation sectors globally and in the LAC region. Furthermore, the report provides recommendations on how to harness the potential that 4IR technologies bring.