In 2016 Zika was declared a public health emergency, due to an association with microcephaly among newborns from women infected during pregnancy (WHO, 2016). Nicaragua had one of the highest initial incidences of Zika in Central America (PAHO, 2017; La Prensa, 2017).
Recognizing that gender issues and gaps constitute serious barriers to improving health outcomes in Zika response, USAID's Applying Science to Strengthen and Improve Systems Project (ASSIST) has partnered with WI-HER, LLC to provide technical leadership for integrating gender into their ZIKA programming in Latin America and the Caribbean.
WI-HER's gender sensitization and integration training for ZIKA includes discussions about gender, sex, equality, equity, and gender-based violence; and incorporates debates and small group conversations around how these factors influence the Zika response.
With the continuing political unrest in Nicaragua since April 2018, in-person trainings are no longer safely feasible, so WI-HER adapted its interactive training on gender integration into a distance course.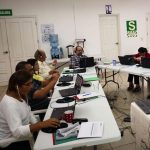 Adapting a training such as this into a distance course is particularly challenging because WI-HER gender sensitivity and integration programs address complex and sometimes delicate topics that are typically accompanied with coaching and monitoring from skilled facilitators. Further, they include active involvement and role playing among participants.
In an age when Skype, Whatsapp, and video streaming have made lives simpler and geographic separations smaller, we imagine that we can accomplish just about anything through technology. Multiple platforms have been developed for online education and training on almost any topic. However, real learning and effective information uptake, particularly with thought-provoking topics that require shifts in perception or challenges to cultural norms, require an innovative mix of technologies and planned interactions that remain flexible and easy to recalibrate when connections are lost or interrupted. WI-HER combines multiple technologies and engages several facilitators to lead face-time training with participants, real-time survey and feedback mechanisms, video feeds for learning re-enforcement, and virtual and physical rooms to conduct side session interactions. These are all accompanied with one-on-one telephone and telecom communications between and among participants and facilitators.
Some of our lessons learned and best practices include:
Use communication platforms that allow face-time with each participant: Using a video camera both in the learning rooms and on individual or shared computers or cellphones allows a platform through which each participant can contribute and be heard.
Video reinforcement of messaging is especially useful when facilitators are virtual: Video streaming, if functional, is often erratic, slow, or low-quality; send video links ahead that can be downloaded onto individual computers so participants can access them during sessions and assignments.
Identify a student lead on the ground in the training locations that you plan to link: This individual will be tasked with managing logistics, coordinating group activities, and continuing side activities during interruptions.
Use online tools: Including surveys and questionnaires for pre and post-tests and training evaluations to facilitate brainstorming activities and solicit feedback. Many programs immediately tabulate results, some including data visualization, to allow real time discussion.
Be flexible: Have a back-up plan to implement when emergencies or interruptions occur. Make agreements with participants at the course outset around protocols for responding to unexpected challenges, emergencies, or communication interruptions.
Incorporate knowledge transfer: As part of your training, when relevant, so that your constituents can continue to reach out to others. Include file shares for on-going access to materials and include a variety of session design recommendations and content that can be mixed and matched for dynamic engagement.
WI-HER, 'Women in Health, Education, and Rule of Law', is committed to serving colleagues in all areas. We understand that those in remote and fragile environments often need the greatest support. For this reason, WI-HER has become adept at leveraging existing technologies and implementing innovative capacity-building strategies to meet the needs of our partners and constituents working in fragile or transitional environments. In Nicaragua, WI-HER has worked with ASSIST colleagues to scale distance training in gender integration and reach medical students and health professionals with gender responsive practices that will improve Zika response and strengthen the health system.