Liberia has one of the highest rates of teenage pregnancy globally, currently hovering around 31% (DHS, 2018). Many of these expecting girls are forced out of the formal education system, excluding a generation of young mothers from a pathway out of poverty. The Kaizen Company, through USAID's Learning Links Project, pairs technology with carefully-designed programming to provide an alternative education mechanism for adolescent Liberian girls. The key to Kaizen's approach to Learning Links is to leverage an exciting but underutilized teaching resource: literate, numerate, and underemployed women in rural communities. Learning Links trains these community women to serve as Tutor-Mentors for a standardized curriculum, connects them with out-of-school girls, uses technology to track individual-level learning daily, and provides financial incentives to Learners and Tutor-Mentors based on demonstrated learning achievement.
Learning Links draws from successful private sector collaborative consumption business models (e.g. Lyft, Upwork) and leverages existing Short-Message Service (SMS) and mobile money functionality in Liberia to provide participants with micro-incentives for demonstrated learning progress, verified by monthly written assessments. The user experience operates with immediate feedback and integrated tracking, virtually supporting the constant learning of participants while simultaneously providing performance-based incentives. Illustrated in Figure 1, the Learning Links program sustains an ecosystem of thoughtful learning supported by intentionally structured pathways to success and greater educational achievement.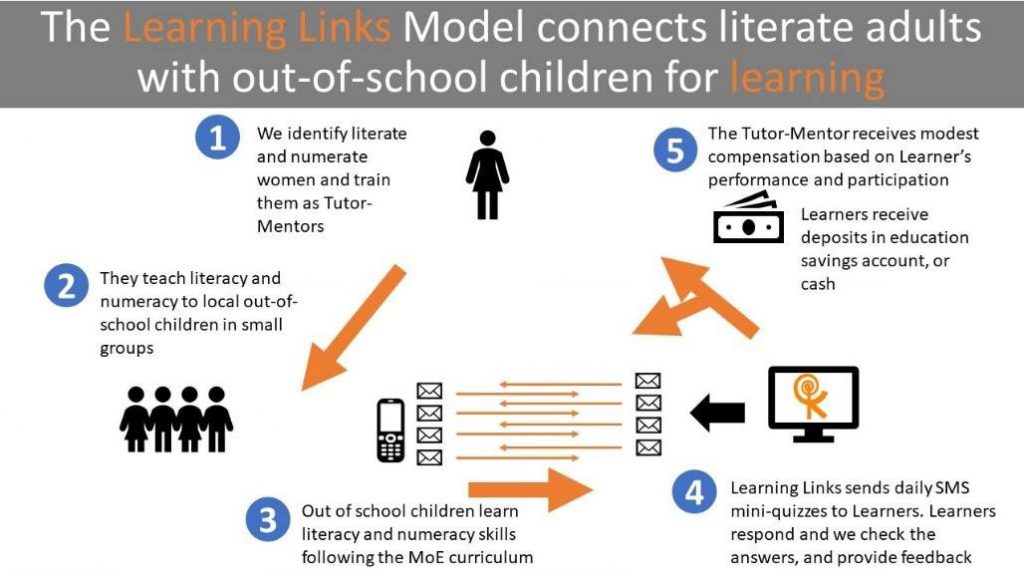 Figure 1: Learning Links System
Kaizen does not look at technology as an isolated solution. It must be paired with a well-conceived and understood incentive structure that truly complements the needs of the beneficiaries. Without this understanding, technology could become maladaptive or ineffective. The SMS-based evaluations paired with financial incentives generate up-to-date data and increase Learner engagement and retention.
To date, Learning Links has touched the lives of hundreds of Learners and Tutor-Mentors. In December of 2018, Kaizen's field team conducted a survey of the approximately 300 Learners that the program has supported since October 2017. The results of the study were encouraging; approximately 30% of Learners had returned to school before completing all three levels of the ABE curriculum via Learning Links. Over the lifecycle of the project, Learning Links has maintained a gradual increase of Learners and Tutor-Mentors, setting the project on track to future scale-up. In its second year, Learning Links is turning these successes towards expansion, beginning in neighboring towns to reach a total of 2,500 Learners and 300 Tutor-Mentors over the course of the three-year project. Learning Links' focus for scalability is twofold: reduce the marginal cost for an additional Learner and maintain the pace of learning at the same or higher rate than the national education system.
Kaizen's capacity building successes remain rooted in the inclusion considerations integrated across the initiative. By engaging with community stakeholders and co-designing awareness sessions, Learning Links ensures support from decision-makers and expands the equitable potential of the participating young women. Simultaneously, the Learning Links system includes psychosocial support, drawing attention to the sociocultural components also at play in the decision-making process of the Learners. In its entirety, Learning Links builds understanding into industry, reflecting Kaizen's commitment to strengthening communities of practice and collaborative engagement through ecosystem knowledge sharing.