In many parts of the world, it is often left to the women of a household to manage daily life, especially water, sanitation, and hygiene (WASH).  As such, they are responsible for responding to WASH-related issues that may arise, from illness due to poor water treatment and storage to a lack of accessible water altogether.  The Women + Water Alliance (W+W Alliance), which was launched in 2017 by Gap, Inc. and the United States Agency for International Development (USAID), seeks to combat these and other WASH-related issues facing women touched by the clothing industry in India, thereby improving household health.
Among the most important qualities of a program like that envisioned by the W+W Alliance is adaptiveness–a program cannot succeed unless it is aware of the needs of the community it serves. The Institute for Development Impact (I4DI), a small woman-owned business, is supporting Gap Inc. and USAID through the design and implementation of a learning agenda, Monitoring, Evaluation, Research and Learning (MERL) Strategy, and Performance Evaluation for the Women + Water Alliance in the Indian States of Maharashtra and Madhya Pradesh.
As a member of the W+W Alliance, I4DI is responsible for outcome-level evaluation of program impact, applying BalanceD-MERL principles (Design, Monitoring, Evaluation, Research, and Learning) to right-size evaluation resources as well as to promote relevant and trustworthy baseline, midline, and endline studies measuring the program's progress, achievements, and long-term impact.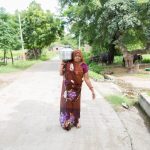 In 2018, I4DI carried out a baseline study in Madhya Pradesh, India, along the Narmada River basin (in program implementation districts Dewas, Dhar, Indore, Khandwa and Sehore) to measure relevant women's empowerment and WASH indicators. I4DI collected data from 1000 households and conducted 25 focus group discussions within the State, addressing topics such as women's agency in WASH decisions, access to improved WASH services, sanitation education, existing funding for WASH programs, and household intentions for WASH development.
In much of India, water is scarce. The majority of respondents to I4DI's Madhya Pradesh baseline study (71.1%) reported needing to travel off of family property to collect water, losing approximately 15% of their monthly minimum wages in travel time. As women are more commonly responsible for household WASH practices than men (a 4:1 ratio), the practical effect of this travel is frequently a net loss in women's potential income.  Additionally, frequent trips can preclude women from pursuing proper education ("Collecting water," 2016).
Most surveyed households in Madhya Pradesh need to travel for water, and yet the majority of respondents (80%) reported satisfaction with their water source. Similarly, only 1/3 of respondents reported dissatisfaction with sanitation facilities, and the majority of surveyed households do not plan to invest in improvements to sanitation facilities (74%) or water access (91%).  Change will not happen in a vacuum.
While some women expressed an interest in improving unsatisfactory WASH conditions within their households, most reported being unable to do so. Solutions to non-financial WASH issues such as poor handwashing techniques (which nearly 1/3 of respondents displayed) were exempt from this perception, but financial decisions were not. Irrespective of women's common roles as the managers of household funds, these decisions are generally made by the head of the household, usually a man.
Factors like these are important to consider when determining the scope and approach of a program like that of the W+W Alliance, as they allow program planners to determine solutions that will best address the needs of women. With training and support, the women participating in the W+W Alliance will not only have easier access to sustainable WASH practices, but also be better self-advocates within their communities.
The W+W Alliance is working to create large-scale change in how water is managed by leveraging expertise, resources and innovative approaches from a consortium of partners from civil society, the private sector and government. I4DI, in addition to WaterAid, CARE, Water.org, the Institute for Sustainable Communities (ISC), the International Center for Research on Women (ICRW), are thus working to unlock the potential of women in communities touched by the global apparel industry in India.
Learn more about Global Waters.Org at  https://www.globalwaters.org/
Learn more about Women + Water Alliance at https://www.globalwaters.org/Women-Water-Alliance
ABOUT Institute for Development Impact (I4DI)
Institute for Development Impact (I4DI) is a woman-owned small business specializing in innovative, technology enabled solutions to improve global development effectiveness. We are a mission driven organization that utilizes its strong competencies in user-centric, contextualized and complexity aware design, applied research, monitoring, evaluation and software development to improve development practice.
With our broad-based expertise and vast network of affiliated consultants, we provide high quality program and organizational effectiveness consulting services all over the world, covering the entire project cycle from conception to implementation and evaluation.
Learn more about I4DI at https://www.institutefordevelopmentimpact.com/about-us/