As a subcontractor to Internews on the USAID-funded and FHI360-led Tanzania Media and Civil Society Strengthening (TMCS) Activity, Mobile Accord, Inc. (GeoPoll) uses data collected by mobile phone in Tanzania to measure the reach of specific radio stations and trains media stakeholders to use this data.
TMCS seeks to strengthen Tanzania's media ecosystem by building local capacity of media outlets through training and technical assistance, ultimately leading to improved freedom of expression, increased access to transparent and accurate news, and a stronger foundation for a free press. To help achieve this goal, GeoPoll provides up-to-date media measurement data through GeoPoll's Audience Measurement (GAM) service and trainings for community radio stations on data-driven decision-making.
The GAM service is unique in that it utilizes the power and reach of the mobile phone to collect data on TV, radio, and print consumption in emerging markets. By sending surveys via SMS and our mobile app, GeoPoll replicates the traditional method of collecting audience measurement information, with the advantage of real-time data collection and shorter recall times. After the data comes in, information on audience size, demographics, and ratings is available immediately on an interactive dashboard. This feature allows stakeholders, including media owners and advertisers, to make more informed decisions regarding programming, advertising rates, and performance of advertising campaigns. GeoPoll designs and delivers tailored trainings under TMCS to ensure that local community radio stations in Tanzania also possess this knowledge to improve the sustainability of their stations.
Data-Driven Decision-Making Trainings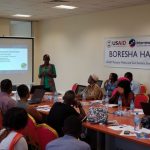 On 2 June 2018 and 19 February 2019, GeoPoll's Audience Measurement Specialist, Akinyi Okulo, led the first two trainings in Dar Es Salaam, Tanzania, titled Introduction to Data-Driven Decision-Making—Radio Media and Using Data To Develop & Attract Advertisers. The two day-long sessions were tailored to the needs of Tanzanian community radio stations, combining theoretical learning with real GeoPoll audience measurement data and practical group exercises. The participating community radio stakeholders were trained in the use of GAM data to drive thoughtful programming decisions to improve their radio programming, increase listenership, and generate additional advertising revenue.
In the first training in the series, 25 trainees from 20 Tanzanian community radio stations went through a theoretical framework on data-driven decision-making that focused on the relationship between information, data, and knowledge. With this framework in mind, trainees analyzed actual Tanzanian radio audience data collected by GeoPoll, as well as nationally representative GeoPoll SMS survey results which provided insight on Tanzanian perceptions and opinions about radio.
To bridge the gap between the theoretical framework and the practical application of data, participants took part in small group exercises which focused on drawing out specific data points from real-time GeoPoll survey results. They then designed tailored advertiser strategies based on their interpretations of the data.
The second training session eight months later included 28 representatives from 18 community-based radio stations. To test retention from the previous training session, trainees examined the audience measurement data collected by GeoPoll in the previous month for the stations Safari FM, Arusha One FM, and Chai FM. Trainees then explained how they might adjust programming for each of the stations to reach more listeners.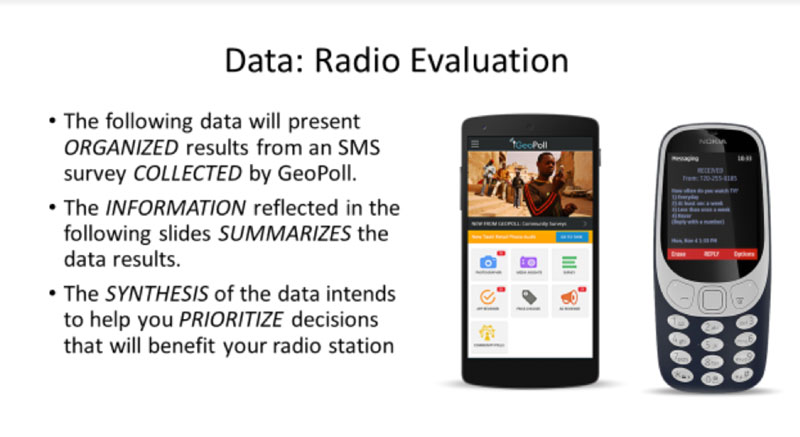 GeoPoll also presented new data from an SMS survey on Tanzanians' perceptions of leading radio advertisements in the country. Trainees used this information to sharpen their data analysis skills, specifically around what types of advertisements are most appealing to Tanzanians. Trainees examined data from the provinces where their radio stations operate, encouraging the development of locally appropriate advertising approaches.
Both training sessions were very well-received, and the trainees expressed a new understanding about why the use of data is vital to improving the sustainability of their respective stations. Over the next three years, GeoPoll hopes to hold regular training sessions on data-driven decision-making for Tanzanian community radio stations so that these stations continue to grow and thrive.