Visualizing and tracking contraceptive security data in developing countries just became much easier due to the launch of a new interactive, web-based analytics tool: the Contraceptive Security Indicator (CSI) dashboard.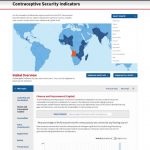 The CSI dashboard was designed and developed by Bixal in partnership with Chemonics for the USAID Global Health Supply Chain Program-Procurement and Supply Management (GHSC-PSM) project. Working with the GHSC-PSM team, Bixal transformed raw data from more than 40 countries into a visually appealing, user-centric dashboard and mapping tool to present metrics by country, topic area, and indicator.
With concrete information on contraceptive security, countries and stakeholders are not only able to monitor the progress of contraceptive security overall but also able to drill down by country to identify areas that need more support. The indicators provide insight into financing, commitment, and leadership, as well as a snapshot of supply chains, pharmaceutical quality, and private-sector contribution and participation.
The dashboard furthers the USAID project's mission to achieve stronger, more resilient health supply chains that ensure an uninterrupted supply of quality health commodities. The analytics tool also provides a new method to attract users and increase global community engagement with the USAID GHSC website, which Bixal also designed and developed for launch in 2017.
Using Agile methodologies, Bixal applied human-centered design at every step of the process to understand and address both organizational and user needs. The highly interactive digital experience offers meaningful information in an easy-to-use format to track progress and inform decisions regarding contraceptive security around the world. Improved data visualization enhances users' ability to digest information, allowing for better decision-making about project activities and adaptations.
Bixal, based in Fairfax, Va., uses strategic communications, knowledge management, and information technology to positively transform the lives of people through the work we undertake for our clients.