Economic development remains a fundamental pillar in maintaining the many successes over the last 13 years in Afghanistan. One part of the effort to create a conducive environment has been the Afghanistan Building Business Networks Program (ABBNP). Barbaricum, a Service Disabled Veteran Owned Small Business (SDVOSB) and Historically Underutilized Business (HUB) Zone company based in Washington, DC recently completed the U.S. Department of Commerce project.
The program implemented four mutually reinforcing projects to promote and enable interprovincial and international trade: targeted business trainings, business communications hubs, technical assistance for a business news portal, and marketing.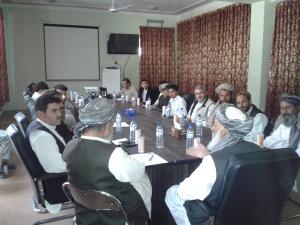 In order to develop the capacity of business leaders, both men and women, ABBNP trained nearly 200 people on business fundamentals — doubling the program goal. The course topics included Business Journalism, Entrepreneurship, Financial Accounting, Sales and Marketing, and Project Management. The training boasted an overall satisfaction rating of 92%, and a quarter of participants found the trainings so helpful that they participated in multiple courses.
Business enabling infrastructure, such as electricity and Internet, can be intermittent and costly across Afghanistan. In order to overcome those challenges, ABBNP created business communications hubs within existing infrastructure supported by the Afghanistan Chamber of Commerce and Industries (ACCI) in four cities: Kabul, Herat, Kandahar and Mazar-e-Sharif.
Each hub is a dedicated space outfitted with technology needed create opportunities for Afghan businesses of all sizes to conduct business virtually. In addition to high-speed Internet, teleconferencing, printing and faxing, the hubs host onsite meetings and gatherings for local businesses. The facility is staffed in partnership with ACCI to enable Business-to-Business matchmaking and identify potential business opportunities.
In order to promote market awareness, ABBNP partnered with Wadsam.com, Afghanistan's largest business news portal. This woman-owned company has spearheaded business news coverage in Afghanistan and continues as a valued resource for news. ABBNP worked with Wadsam to build new site architecture with improved analytic capabilities, optimized the site for Google News, and enhanced the aesthetic appearance including a new logo.
ABBNP also created a series of videos profiling successful companies in Afghanistan. The pieces included spotlights on Orzala Perfume — which produces essential oils derived from local flowers for export, Naweyan Nawed Ltd — which produces dried fruit and nuts, Zarang Motorcycles — which locally produces three-wheeled motor carts for commercial use, and Aria Water Plant — which bottles spring water in a state of art facility. A fourth video depicted overall investment potential of the Afghan economy. All of the videos are available on the Wadsam.com YouTube Channel.
ABBNP provides several lessons-learned for similar projects. First, the mutually reinforcing nature of the projects helped create a synergistic effect that contributed to overall program success. The training on Business Journalism created new opportunities for Wadsam.com to produce content; the business communications hubs hosted the trainings and advertised hub services to training participants and the larger business community; Wadsam distributed the spotlight videos to promote an atmosphere of investment and trade in Afghanistan. Each of these projects was more successful in tandem than if they were performed independently.
Second, use of local talent facilitated effective execution and reduced program costs. The combination of a limited number of experienced U.S. staff combined with an on the ground implementing partner, Afghanistan Holding Group, provided a cost effective strategy to conduct projects across Afghanistan.
Third, use of local talent ensured the sustainability of the project successes. ABBNP deliberately enhanced the services of existing organizations instead of creating new, disconnected resources. The business communications hubs were created as an extension of ACCI. The hubs will remain open for the public using the resources and clientele of ACCI instead of donor funding. The business news portal was an enhancement of an existing website with an established audience, advertising revenue, and dedicated staff invested in long-term growth of the online portal.
Fourth, U.S. small businesses can implement multifaceted programs in international environments, including challenging areas like Afghanistan. ABBNP is just one program executed by Barbaricum across sixteen countries on five continents. The vast majority of ABBNP's deliverables and goals were reached on time or exceeded despite logistical and security challenges due to the extended Afghan Presidential Election. Whereas many large companies do not have the risk-tolerance to operate in complex security and development operations, Barbaricum delivers results with the nimble agility of a small business and the talent and quality of a large business.