SBAIC Membership Meeting is Tuesday, October 1st from 10:00AM–12:00PM.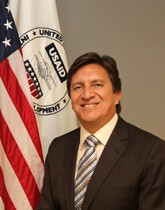 SBAIC is honored to have, Mauricio Vera, Director, Office of Small Disadvantaged Business Utilization (OSDBU), USAID and members of his team as our guest speakers. This will be a great opportunity to learn about the small business activities at USAID and engage with directly with the USAID OSDBU Team.
PLEASE NOTE: Due to the high level of interest for this meeting, SBAIC will be hosting the meeting at Holland & Knight, 800 17th Street, NW, Lower Level Conference Room, Washington, DC 20006. The meeting will NOT be at Integra's offices this month only. Registration is required in order for in-person attendance due to building security.
While the membership meeting is at no cost to members, please use the following link to register for this event: SBAIC Bi-Monthly Membership Meeting , Tuesday, October 1, 2019
If members can not attend in person, we encourage them to attend via conference call
using the Join.Me conference line sent out through email on September 18, 2019. The meeting is designed to include an association update for the first 30 minutes. The remaining part is dedicated for presentations by the invited guests.
We thank Holland & Knight, LLC for donating the meeting space. They are an International law firm supporting large and small businesses around the world with a variety of government contracts. We also thank Creative Corrections, LLC for providing refreshments for this membership meeting. They are a consulting firm who develops knowledge and builds capacity in the Policing, Corrections, Security, RoL and Judicial sectors throughout the United States and Internationally.