Our October 2018 SBAIC Membership Meeting at the Intrega Conference Room was well attended and very successful.  With over 50 members present and another 25 members online, the Executive Board was able to interact with many members regarding ongoing activities, advocacy efforts, upcoming events, and networking opportunities.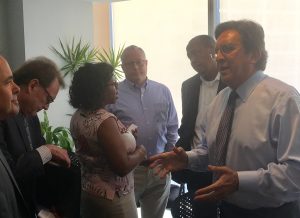 In the second hour, Mauricio Vera – OSDBU Director, Kimberly Ball – OSDBU Deputy Director, and Teneshia Alston – OSDBU Senior Program Analyst, provided SBAIC members with USAID's Small Business Performance for FY 18 briefing (USAID Small Business Update for SBAIC Link). They enlightened us with upcoming contract opportunities and answered many questions regarding the future of USAID's mission transition and funding. They further discussed what category management will mean for small business utilization.
Maricio Vera also drew our attention to USAID's SBMART resource.  SBMART is a new resource which allows small business to register their capabilities directly with USAID.   USAID's acquisition and technical staff use SBMART as their market research tool to help them identify small business and Minority Serving Institutions with the expertise and capabilities to perform on USAID requirements.  If you have not already registered your small business in USAID's SBMart, we encourage you to do so at the SBMART Link .
Please remember SBAIC is accepting nominations for Vice Chair, Secretary, and Treasurer. Each position has a three-year term.  Vice Chair nominations were due October 12th. Secretary and Treasurer nominations are being accepted until December 1, 2018.  Please send nominations to SBAIC's current Secretary, Shelley Spencer, sspencer@siaedge.com
The December 2018 SBAIC Members Meeting is scheduled for Tuesday, December 4th at 10:00am.   Wanneh Dixon from FHI 360 and Janel Poche, FHI 360 Small Business Liaison will be speaking during the second hour.
Mark your calendars, we look forward to seeing you there!