SBAIC is thrilled to provide a unique opportunity for our Member Companies to participate in an inclusive meeting with USAID's Ombudsman, Crista Wise and Teneisha Alston, Program Manager of USAID OSDBU on March 20, 2019.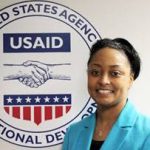 Our speaker, Crista Wise, has a unique background and brings an understanding for different perspectives to the field of government contracts and assistance. She came to USAID M/OAA from the General Services Administration (Federal Acquisition Services) where she was a Senior Procurement Analyst, leading a team that oversaw initiatives to improve government-wide acquisition. Crista also worked in GSA's Public Building Service where she performed cradle-to- grave contracting actions and worked on special projects. In addition, Crista has experience working for DHS/TSA. She has been the USAID Ombudsman since 2015 and is an amazing resource and champion of small business.
Our partner, Tetra Tech, will host the meeting at their offices located at 1320 N. Courthouse Rd, Suite 600, Arlington VA 22201.
The meeting location is Metro accessible via the Orange and Silver Lines. The entrance/exit point is across the street from the Courthouse Metro Stop. Street and Garage Parking is also nearby.
Security & check-in for the meeting will be on the 6th floor in the lobby of Tetra Tech's offices. The event will take place in the lobby conference room.
Please note, this is a closed event for SBAIC members only, and registration for this event is now closed.
For those who are not able to attend in person, please use the following information to join virtually via computer:
Join by Phone: Toll-free number: (800) 523-8437, Conference ID: 4352596933#
Event Agenda
11:00AM – Event Check in
11:00AM-11:20AM – Meet & Greet with Tetra Tech
11:20AM-11:30AM – Welcome from SBAIC, Tetra Tech, and Introduction of Speakers
11:30AM-12:30PM – Speaker Crista Wise, USAID Ombudsman
12:30PM-1:00PM – Questions & Answers, Event Close
SBAIC would like to express our gratitude to Tetra Tech for host the event and providing lunch. Thank You on behalf of our members!!!