What does the island of Phuket and the cities of Port-Au-Prince and Kathmandu, have in common?
They have all had to cope simultaneously with high patient burden and total infrastructure failure in the wake of a devastating natural disaster. In all three cases – Thailand, Haiti and Nepal – damage to individuals from injury was compounded by profound infrastructure dislocation and destruction.
Even life-saving emergency surgery can lead to life-threatening infections when a lack of clean water or electricity prevents effective medical instrument sterilization. The Eniware Portable Sterilizer (EPS) enables safe, essential surgery anytime, anywhere, without water, heat, electricity or other fuel.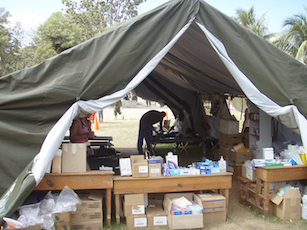 Following the 2004 tsunami in Southeast Asia and the 2010 earthquake in Haiti, already fragile healthcare systems imploded. Hospitals and health clinics were swept away in the tsunami, hundreds of health workers were killed and more than 500,000 people left injured1. Following the disaster, the average number of days for electrical power restoration was 39 days². In Haiti, the University Hospital collapsed, killing 150 nursing students³. Among the 300,000 injured survivors, 4,000 people required amputation of crushed limbs?. The situation on the ground deteriorated to the point where desperate healthcare professionals, working round the clock, had to resort to using vodka as an anesthetic and disinfectant in the absence of medical supplies and sterilization3.
The Challenge: When There is High Medical Demand and No Infrastructure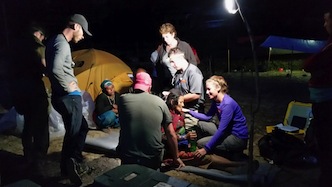 2015 has already witnessed large scale healthcare disruptions following a 7.3 magnitude earthquake in Nepal. Earthquake survivors and first-responders had to cope with more than 8,800 people killed and 23,000 injured?. Volunteer medical teams struggled to provide care in makeshift tents without power and running water, without adequate lighting, anesthesia, or sterilization for surgery.
On April 28, CNN reported on a complex skull fracture repair performed in Kathmandu by neurosurgeon and medical correspondent Sanjay Gupta under these daunting, non-sterile conditions:
"The conditions are less than ideal. Gupta washes up using sterile water and iodine poured from a bottle rather than hot water from a scrub sink. Instead of electric drills, he relies on saws of the variety usually only used in war zones and natural disasters due to the lack of electricity."
– Source: http://www.cnn.com/2015/04/27/world/nepal-earthquake-bir-hospital/
The Solution: Innovations that Help Ensure the Quality of Resource-Challenged Medical Care
Global health innovators have already developed ingenious solutions to ensure the delivery of high quality care in low-resource settings, and small businesses like Eniware LLC are leading the charge by providing innovative solutions and products that can easily be deployed for humanitarian and disaster medical responses, including:
The Eniware Portable Sterilizer (EPS) provides state-of-the-art nitrogen dioxide sterilization for medical instruments without water or heat. EPS' room-temperature sterilization is highly material compatible, requires no post-cycle aeration or cool-down, and can be used with temperature-sensitive materials including plastics. An inexpensive, robust, hand-carry portable medical device, the EPS is suitable for point-of-care use in low-resource healthcare settings including disaster areas, conflict zones, refugee camps, Ebola treatment centers, and hospitals and clinics throughout the developing world. http://www.eniwaresterile.com/
Gradian Health's Universal Anesthesia Machine (UAM) can deliver safe anesthesia even in the absence of reliable electricity or compressed medical gases. The machine can operate for up to six hours on rechargeable battery power and is able to draw oxygen from a connected source or generate its own oxygen from room air, making it suitable for use in both well-resourced and low-resourced medical settings http://www.gradianhealth.org/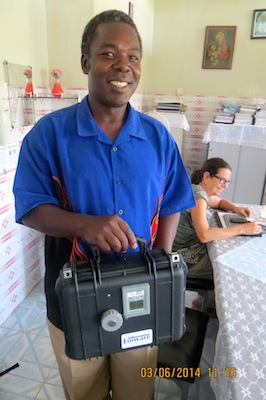 We Care Solar Suitcase is a safe, durable, easy-to-use, portable, solar-panel based power unit. The basic unit includes headlamps, a phone charger, AA/AAA battery charger, and a fetal heart-rate monitor; larger units include high-efficiency LED medical lights and are able to charge laptop computers and small medical devices. http://wecaresolar.org/
There can be no doubt that natural disasters result in massive numbers of trauma injuries requiring immediate, life-saving emergency surgery. And yet, when emergency medical needs are at their peak, electrical power and clean water required for safe, sterile surgical care are in their shortest supply.
In low-resource healthcare settings due to humanitarian and natural disaster situations, we now have the ability to maintain quality of care in spite of high demand and severe resource challenges. Global health innovators like SBAIC associate member, Eniware LLC, Gradian Health, WeCare Solar, can effectively and affordably deliver power-independent anesthesia, lighting and medical instrument sterilization, anytime, anywhere, even under the extreme conditions typical of the aftermath of a natural disaster.
1. Carballo, M., Daita, S., and Hernandez, M. "Impact of the Tsunami on healthcare systems." Journal of the Royal Society of Medicine. 98 (2005): 390-395. DOI: 10.1258/jrsm.98.9.390.
2. Kuwata, Yasuko. "Post-Tsunami Lifeline Restoration and Reconstruction." Tsunami – A Growing Disaster. Ed. Mohammad Mokhtari. InTech, 2011. Web. 22 June 2015.
3. Hyman, Mark. "Haiti Journal: Hacksaws and Vodka – Resurrecting Port-au-Prince's Largest Hospital From the Rubble." The Huffington Post. Huffingtonpost.com, Inc., 20 Mar. 2010. Web. 22 June 2015.
4. Hyman, Joshua E., and Lorich, Dean G. "Surgeons Recall Different experience in Haiti Following Earthquake." New York-Presbyterian Hospital. 23 Mar. 2010. Web. 22 June 2015.
5. Nepal Disaster Risk Reduction Portal. "Incident Report of Earthquake 2015." Government of Nepal. Web. 22 June 2015.