"We are starting to witness less polarization between the Christian and the Muslim societies in Jimma and Argoba largely due to changes in attitudes," said Mamo Wejega, Program Coordinator at the Inter-Religious Council of Ethiopia (the Council).
Mr. Mamo reports that the Council has made great strides in its peacebuilding efforts. He says the management training that the Council has received from the Local Capacity Development program in the past year has helped his office develop a much more effective reporting and communications system. "We have started to receive high quality reports from the field which provide us with the information we need to devise new approaches which really work," he stated. Mr. Mamo also says the assistance has significantly helped his office to better meet the requirements of USAID and other donors.
The Inter-Religious Council of Ethiopia is one of 28 implementing partners receiving support from USAID's Local Capacity Development program, implemented by The Kaizen Company. The program works with local partners to improve their overall management capacity and their ability to implement donor-supported programs. All 28 partners are Ethiopian organizations, which have received direct awards from USAID Ethiopia; and all but one are first-time implementers. Since July 2014, Kaizen's Local Capacity Development program has been helping USAID Ethiopia to strengthen its partnership with local organizations, in line with USAID's Worldwide Local Solutions Initiative.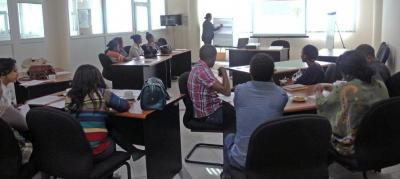 USAID Local Capacity Development Program Capacity Building Workshop in Addis Ababa
Through training, technical assistance, and peer knowledge sharing in a Professional Community platform, the Local Capacity Development program supports USAID's Ethiopian partners to better manage donor funding through appropriate budget utilization rates, timely submission of high-quality reports, greater professionalism, and capturing and sharing the impact of their work. Ultimately, the goal is to expand the overall pool of capable local organizations which have the capacity to partner with international and domestic donors.
All partners have improved their management capacities as a result of their partnership with the Local Capacity Development program. Average partner Organizational Capacity Assessment scores have increased by 50% (from 1.93 to 2.89 on a 4 point scale) from April 2014 to October 2015. Some areas have improved dramatically. Local partner budget utilization rates have increased from an average of 55% to 76% in less than one year. USAID has also seen improvements in the quality and timeliness of partner report submissions. As a result, USAID rated The Kaizen Company's performance on Local Capacity Development as 'Exceptional' in all but one of the Contractor Performance Assessment Report areas.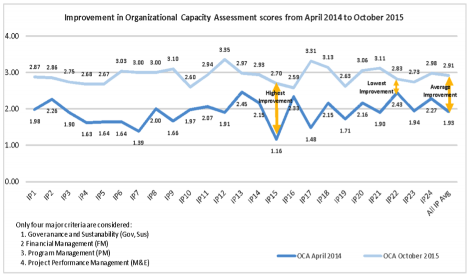 Increased Organizational Capacity Assessment Scores from April 2014 to October 2015
For many partners, these improvements have led to increased impact on the ground. In the case of the Inter-Religious Council of Ethiopia, following trainings and one-on-one sessions with Local Capacity Development program staff, the Council developed a reporting system which enables them to effectively capture and respond to the religious conflicts in Jimma and Argoba. RiPPLE, a water research partner, attributes stronger working relationships in mitigating harmful waste management practices they were able to establish in Hawassa to the new communications and outreach strategy they created with the Local Capacity Development program's support.
However, significant challenges remain. Some local partners have yet to fully convert improved skills and systems into program implementation practices. Bruktawit Tegabu, Chief Executive Officer of Whiz Kids Workshop, which has a USAID grant to deliver health messages through their popular children's television program, says that "While we've made many improvements as a result of Local Capacity Development program's support, the challenge we now face is getting our staff to change their ways to better meet all of USAID's expectations." And while USAID Ethiopia has seen the progress made by local implementing partners, by and large, they have yet to see the level of performance that they have come to expect from international implementers.
In consultation with both USAID and local implementing partner leaders, Kaizen's Local Capacity Development program has adapted its second year implementation to increase impact. Local implementing partner leaders meet monthly to share lessons-learned on implementation effectiveness and to proactively engage USAID with a shared voice.
While USAID Ethiopia's initial goal in creating the Local Capacity Development program was to improve the capabilities of existing local IPs, Kaizen is now working with USAID to expand services to other partners that would benefit. To this effect, the program is converting training and technical assistance modules into e-learning videos for distribution and use in a 'flip-the-classroom" learning model. This will enable the Local Capacity Development program to expand support to remote field locations of USAID's existing partners and to additional organizations, not currently working with USAID, which seek to improve their capacities as donor partners. The objective is to create a tangible means for motivated Ethiopian organizations to demonstrate their capabilities, while expanding the pool of qualified local organizations with which USAID and other donors can confidently partner. With the results recorded thus far and with support from The Kaizen Company's Local Capacity Development program, USAID Ethiopia is getting much closer to achieving its Local Solutions goals.