Introduction
The USAID Customs Reform Project (USAID CRP) is a multifaceted project with the overall goals to improve Timor-Leste's international and cross-border trade and transit efficiency and professionalize Timor-Leste's newly established Customs Authority (CA). Achieving these goals requires developing reforms to reduce the time and cost through customs best practice, which includes:
adopting risk management principles; 
streamlining procedures and processes; 
increasing transparency and information; 
facilitating communication with the private sector; and, 
coordinating with other government agencies.  
USAID CRP started in June 2017 with a work plan for systemic changes in internal administrative regulations, compliance with international laws, and improving supply chain processes. USAID expanded CRP's scope in 2019 to include other government agencies (OGAs) that work with the CA, including the Ministry of Agriculture and Fisheries (MAF) and the Ministry of Health (MoH). As the project draws to an end in September 2021, we reflect on the impact of the project, as well as the challenges and opportunities that marked the COVID era, as we described in this blog post?here.? 
Accomplishments
The current evaluation methodology at USAID stresses quantifiable results, measuring progress by the numbers. The box below gives impressive numbers for CRP's impact.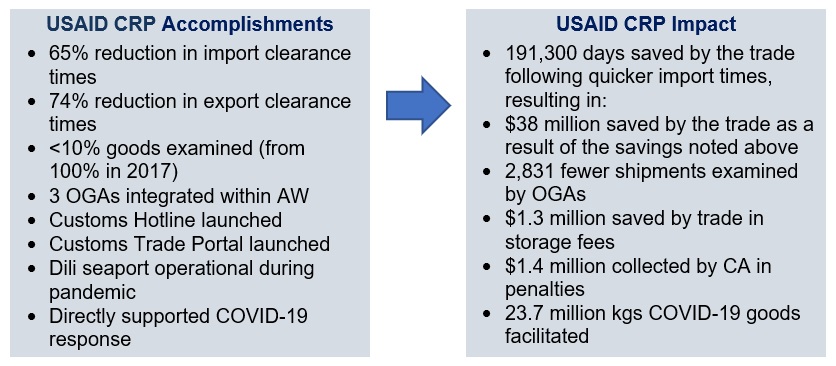 Yet behind these numbers is a story of people-to-people connections that are the essence of development aid. At its peak, USAID CRP had up to eight long-term embedded experts work at the CA in key positions, including risk management, compliance, Dili Seaport operations, and human resources. The experts worked hand in hand with the CA's staff to collaboratively identify genuine everyday issues and develop and implement effective solutions. USAID CRP's "boots on the ground" method allowed the team to adapt training material, conduct skills assessments, monitor activity impact, and mentor staff on a more permanent basis. 
USAID CRP also embedded a Human Resources/ Organizational Development advisor within the CA, which improved management and institutional capacity, ensuring that the CA staff had more precise job descriptions and roles in the agency. From this, the CA became a more professional organization, where local officials mastered their roles and responsibilities, developed local ownership, and adopted best practices tailored to Timor-Leste and the CA's context. Enhancing organizational structure hopefully contributes to the lasting durability and maintenance of the reforms achieved by the project.
Takeaways
Working closely with the CA's staff as a team with a united goal, USAID CRP facilitated knowledge sharing and the sense of local ownership of the new systems and objectives introduced by the project. The USAID CRP team trusts that the reforms the CA saw in the past five years are not transient nor cosmetic, but rather became part of the nation-building quest for the Timor-Leste people. Keeping the CA modernized and efficient for a small nation such as Timor-Leste is key to generating investment and growing the local economy. IBI is honored to have been part of this journey.