In Afghanistan's post-evacuation landscape, the need for insightful localized data for the development sector is amplified. Fraym is pioneering the use of geospatial technology to deliver nuanced understanding amidst uncertainty and help decision-makers chart a well-informed path forward to support Afghan communities. Fraym's community-level data can empower development implementers to ensure their efforts in Afghanistan are highly targeted and effective.
Fraym's machine learning (ML) technology weaves together geo-tagged household survey data with satellite imagery to create localized population information at a 1 km2 resolution. Specifically, Fraym's automated ML process uses harmonized survey data to "train" a series of models that use over 100+ inputs derived from a variety of data sources to calculate population characteristics. This approach allows Fraym to produce localized findings on population characteristics across an entire country – and to produce comparable insight for other geographies around the world. Fraym's unique location-based data provides information necessary to target at-risk areas, address vulnerability, and illustrate underlying drivers for development challenges at the hyperlocal level.
Over the past few months, in response to the evolving situation in Afghanistan, Fraym has been producing high-resolution data for use in the country's post-evacuation landscape. Fraym has compiled critical datasets on attitudes and perceptions, media consumption, food security, among other key indicators, and is making these datasets available to stakeholders with the hope that it will help them better meet the challenges on the ground.
Illustrating the utility of its datasets, Fraym mapped key sentiment indicators across Afghanistan at the community level and analyzed timely questions, including:
What are local attitudes toward women's rights?
What are local attitudes toward foreign aid?
Which communities are facing the greatest levels of food insecurity?
The data revealed sub-national nuance among key sentiment indicators that are highly relevant to humanitarian and development challenges, such as support for girls' education, support for foreign aid presence, and food security. For example, Fraym found that while support for girls' education is strong across the country – with a nationwide average of 86 percent of adults somewhat or strongly supporting it – the provinces of Bagdhis (72 percent), Zabul (73 percent), and Kandahar (73 percent) represent pockets of less support relative to the national average. Although most Afghans (66 percent) also support foreign aid presence, this proportion varies widely across communities. In Kabul, 87 percent support foreign aid presence, but to the west in Farah, only 49 percent hold the same attitude. Additionally, Fraym mapped community-level food security throughout the country and highlighted the cities of Takhar and Zaranj, where only 34 percent and 39 percent the population, respectively, expressed the ability to afford food. These two communities face steeper food security challenges than the country-level of analysis suggests, given that the national average response is 51 percent.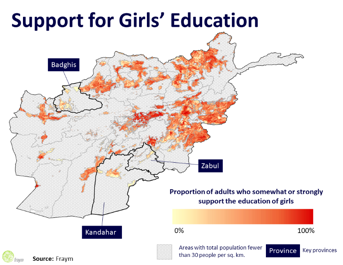 Fraym also analyzed the Afghan people's attitudes toward the Taliban – providing important situational awareness to implementers. On the national level, Fraym found support for the Taliban is low, with only 12 percent of adults preferring Taliban rule over the democratic government of Afghanistan. However, Fraym data provides a critical look at local variations within this trend: some south-central districts have support levels around 50 percent, including Andar, Sharan, and Mata Khan.
Finally, Fraym produced a key sentiment indicator for the percentage of Afghans who consider the Taliban more moderate now than when they ruled Afghanistan from 1996-2001. Although the national average for this indicator was 43 percent, key variances emerged in cities across the southwestern part of the country: in Zaranj, the proportion was 22 percent, while in Lashkar Gah and Kandahar, the proportions exceeded 50 percent.
Fraym's analysis across multiple key sentiment indicators in Afghanistan highlights the importance of hyperlocal data when responding to complex challenges. The company's community-level data can bolster implementers' understanding of attitudes and perceptions in Afghan communities and enable them to produce targeted and data-driven programming, despite increasingly unclear conditions.