Senior Associate, Technical Services and Michelle Muldoon, Director, Economic Opportunities. Making Cents International
September 5, 2014
The international development community recognizes the important role women and adolescent girls play in driving economic growth and promoting food security. Making Cents International has been increasing economic opportunities for women and adolescent girls around the world for the past fifteen years, using its inclusive and participatory capacity-building approach to help them start and grow businesses, engage in profitable value chains, access finance, and obtain meaningful work.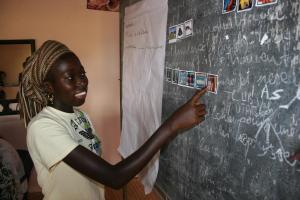 Over time, development approaches to gender-inclusive programming have evolved to reflect the learning gained by USAID, its implementing partners, and other donors from projects spanning a range of political, economic, and cultural contexts. Making Cents' approach captures this learning as well as lessons learned from our own experience by applying the following five key principles that can serve as a guide for implementing economic growth and food security programs around the world.
1. Create avenues for active participation of women and girls in local economies. Women and girls often have limited access to and control over resources, impeding their ability to participate in local economies and value chains. To address gender constraints and create more equitable opportunities for their active participation, it is important to help women create value within existing activities in target chains and identify new value chain activities for which they are uniquely positioned based on their skills and interests.
2. Recognize that gender inclusion is a process. Gender inclusion cannot simply be measured at the end of the project if meaningful results are desired, nor can transformation be achieved by passively promoting gender inclusion only during activity implementation. Doing so fails to account for the pervasive impact of gender on the optimal timing, sequencing, location, and even seasonality of interventions. Women and girls must be involved in the entire project development cycle – from project design to implementation, to monitoring and evaluation – to ensure relevance, accessibility, and sustainability of each project intervention.
3. Understand that gender inclusion exists and evolves along a continuum. Inclusion is rarely an "all-or-nothing" proposition. Rather, it typically evolves along a continuum that ranges from exclusion, to neglect, through neutrality and awareness, to full inclusion, as depicted in the graphic below. It is therefore critical to assess the existing situation – constraints to and opportunities for inclusion – and proceed from there, at times promoting incremental change, at others taking advantage of opportunities to shift perceptions more deeply.

4. Engage local partners in the design of gender-inclusive approaches using intentional, systemic practices and tools. Understanding gender dynamics in a given context is critical to successful, sustainable, and inclusive impacts that women and men see as benefiting the entire household, their community, and the society as a whole. By using "gendered" tools and techniques, implementers can develop an understanding of the unique gender dynamics for each project. Local partners can ensure the selected approach is appropriate, realistic, and achievable. By jointly applying a "gender lens", implementers and local partners can collaboratively design a set of practical actions to confront, accommodate, or bypass gender constraints and, in doing so, contribute to enhanced economic outcomes for women and girls.
5. Capture knowledge and share best practices. Capturing, disseminating, and supporting the application of relevant information, lessons learned, and best practices on gender-inclusive approaches in economic growth and food security programming is important in advancing the field. All learning and knowledge exchange should be unified by a common thread, which is to provide actionable and practical 'how-to' solutions to apply newly acquired knowledge and partnerships to future programs and policies.