DevTech has a long record of supporting education, public-sector financial reform, and economic development initiatives in Latin America. Several recent efforts in the region have focused on reducing the prevalence of child labor by reforming national school systems and advancing the right to education for children in Nicaragua under the USAID Community Action for Reading and Security (CARS) Activity. DevTech also currently provides monitoring and evaluation support for the full portfolio of USAID activities Guatemala under the USAID Guatemala Monitoring and Evaluation Program (MEP) and in the past, provided similar support in Colombia.
USAID Guatemala Monitoring and Evaluation Program (MEP)
By Juan Carlos Mendez, COP
In Guatemala, there is no official, up-to-date, or reliable data on employment by type of producer, production system, technology per crop in a given territory, or employment generated by a specific agricultural value chain. MEP conducted a case study to estimate employment generated by the economic activities of the AGEXPORT and ANACAFE Rural Value Chains Project (RVCP), which supports coffee and vegetable production in the western highlands of Guatemala.
One of the most relevant results in this case study was that the criteria and parameters to calculate employment generation in each agricultural value chain were agreed upon, aligned, and standardized in the employment report system. This was achieved through consultation workshops with monitoring and evaluation specialists and the consortia's vegetable and coffee experts.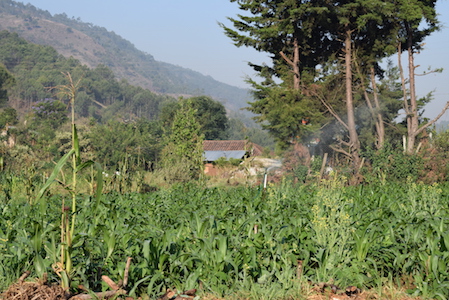 The findings will help update the AGEXPORT and ANACAFE reports on the employment generation indicator, as well as national averages reported in national literature as wages per hectare per year generated by vegetable and coffee crops.
Furthermore, a consensus was reached on the socioeconomic characteristics of the producer and the characterization of the vegetable and coffee chains. From this data, indexes were created to estimate employment generation in pre-harvest, harvest, and post-harvest phases. This data will improve precision and unify reports on employment generation from vegetable and coffee chains.
In terms of employment generation, the chain focuses on the pre-harvest phase while continually decreasing in the harvest and post-harvest phases. The use of indexes aligns the calculation methodology among implementing partners and simplifies reporting on employment for each of the chains.
These results were obtained through a study composed of five phases: a) literature review; b) interviews with specialists; c) definition of the target population; d) workshops with experts; and e) data analysis.
USAID Nicaragua Community Action for Reading and Security (CARS) Activity
By Angie Martinez – Communication Specialist
One of the four components of CARS is to improve the reading ability of at-risk children in the Space For Growth (Espacios para Crecer, EpC), an extra-curricular opportunity that targets early grade reading by implementing dynamic and participatory strategies of teaching-learning, with a constructive and humanistic focus, providing children the opportunity to improve their self-esteem, learn values, and develop basic skills and abilities.
The CARS Activity works closely with local organizations and educational authorities to carry out activities at the school, community, and municipal level. With a focus on evidence-based approaches, CARS is training EpC facilitators with new techniques on how to improve classroom culture and management. Facilitators return to their classrooms with new practical knowledge and skills to improve early grade reading outcomes.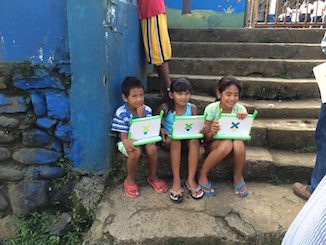 DevTech provided XO laptops to 113 educational centers in Nicaragua's Caribbean Coast, benefitting a total of 3,410 children.
For many of the students, the main influence on their improved performance is the increased positive feedback they receive from teachers and parents. "I am so happy that CARS trained us in innovative reading strategies and on how to improve classroom culture. Today my classroom vibrates with the energy of students engaged in collaborative learning projects. Before CARS our students' self- esteem was very low, and they did not like to work in groups or participate in public events," said Ortega Howell, the EpC facilitator.
One success story involves Wilfred Omier Benwell, a nine–year-old boy, who repeated the first grade four times. He was adopted and raised by his grandparents. "He has taken full advantage of these opportunities. He has a scholarship from the Verbo School and participates as an EpC student. Before EpC he was totally lacking in motivation to go to school, and had a lot of difficulty reading and interacting with others. Now his grades have increased from zero to more than 70 in many subject areas. His reading has greatly improved and he is much more confident at school," said Fern Ortega Howell.
Wilfred spoke about his experience in the EpC: "Now I like to read. I love the story that is called 'Choco Finds His Mother.' I like to watch movies where children find their "lost" parents. After class, I go home and my aunt helps me with my homework because my adoptive mom doesn't know how to read. Then I go to my EpC Class where I have lots of fun. I have a friend there and we play together. I told him that when I grow up I want to be a firefighter who helps people because years ago my aunt's house burned down and I was very sad."
The facilitator, Ortega Howell, concluded by saying, "Due to USAID, Community Action for Reading and Security Project (CARS) and Fundación Zamora Terán, I am very pleased with my students' improvement."