At a recent White House Summit on Countering Violent Extremism, President Obama framed the challenge facing the global community: "When people — especially young people — feel entirely trapped in impoverished communities, where there is no order and no path for advancement, where there are no educational opportunities, where there are no ways to support families, and no escape from injustice and the humiliations of corruption — that feeds instability and disorder, and makes those communities ripe for extremist recruitment."
The President's focus has helped bring the issue of violent extremism (VE) to the fore, and it also highlights the complex, systemic, multi-faceted root causes of the allure of extremism. Although it is growing, the body of evidence regarding what works and what does not in countering violent extremism (CVE) programming in developing countries remains limited. Here, it may be possible to draw some insights from other contexts. In particular, the experience of Latin America in addressing the scourge of gang violence and particularly gang recruitment may offer some parallels to the challenges facing governments, donors, and civil society groups in the Middle East and Africa as they grapple with the role development assistance can play in CVE.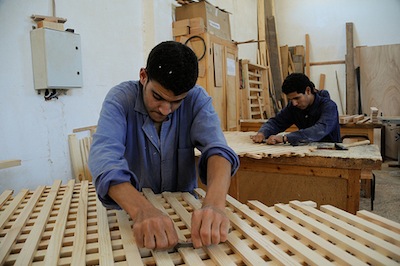 There are a number of specific political, economic, and social factors, as well as particular group dynamics and socio-psychological processes that are likely to generate or increase individual and community vulnerability to VE. Both gangs and violent extremist organizations can manipulate social marginalization, the search for meaning and identity, and lack of viable alternatives into recruitment tactics on vulnerable youth. Similarly, many of the factors enhancing resiliency to violent extremism appear similar to those that strengthen community resiliency to crime and gang violence. These factors include a shared collective identity or purpose, strengthened social ties, inclusive education and economic systems, and a sense of efficacy by youth.
While CVE programs are relatively new, development agencies have a considerable body of evidence regarding what works and what does not in violence prevention in Latin America. For example, an impact evaluation presented by Vanderbilt University's Latin America Public Opinion Project (LAPOP) in October 2014 demonstrates that a community-based approach to crime and violence prevention in Central America, which "integrates education and workforce development, economic growth and employment, public health, and governance interventions," has produced, "a significant reduction in the expected level of crime victimization and violence," as well as a reduction in gang-related problems in treatment communities.[1] According to SSG Senior Associate Kristen Sample, "Governments and donors have more than two decades of experience in violence prevention programs in Central America and Colombia. These programs demonstrate the importance of coordinated action on the part of critical stakeholders – local governments, international donors, and US agencies – to help achieve a collective impact."
The knowledge and experience gained in Latin America is highly relevant to those involved in CVE work. "There are only a handful of CVE programs around the world, so the body of knowledge within the development community is extremely limited. Therefore, it is critical that those of us working on programs to prevent and counter violent extremism build on the best practices and lessons learned from the Latin America experience," says Jen Heeg, SSG Senior Associate and an expert on violent extremism in the Middle East.
A growing body of evidence suggests that ideology is just one of many tactics employed by violent extremist organizations in their recruitment – similar to Latin American gang recruitment, youth may be driven to join VE groups out of a sense of marginalization, injustice, and desire to belong. These similarities deserve further attention in the analysis, programming, and evaluation phases of CVE work.
The phenomenon of violent extremism is not static – it is constantly evolving. As governments, donors and civil society groups in the Middle East and elsewhere increasingly focus on developing CVE programs to meet this evolving ever-changing challenge, it is essential that practitioners draw upon the wealth of knowledge and experience garnered in Latin America.
---
[1] Impact Evaluation of USAID's Community-Based Crime and Violence Prevention Approach in Central America: Regional Report for El Salvador, Guatemala, Honduras and Panama, 2014, Latin American Public Opinion Project