Authors: Shauna-Kaye Rowe, WI-HER Senior Associate, and Annie Cameron, WI-HER Senior Program Manager, East & West Africa
In Nigeria, one in three women of reproductive age has been affected by gender-based violence (GBV), with 30 percent of girls and women between the ages of 15 and 49 reporting experiences of sexual abuse, according to the UN. While support for addressing GBV continues to increase in Nigeria, it is critical to ensure that the GBV-related data and information reported and shared is not only accurate and timely but also relevant and actionable. Strengthening the capacity of healthcare workers (HCWs) to accurately report GBV case data is a core part of this because the success of monitoring, evaluation, and learning (MEL) hinges on the quality of the data collected. It is not only important in terms of accuracy but also to ensure the relevance of the data and its ability to support and direct policy and facility-level initiatives.
In 2019, WI-HER, a woman-owned small business, conducted a gender desk review to understand the key challenges in GBV response at primary healthcare facilities in five states across Nigeria. Challenges included significant underreporting of GBV cases at the community level due to cultural stigma and lack of awareness around the prevalence of GBV and its potential health impacts. Further, underreporting was found due to a lack of training provided to HCWs on accurately documenting GBV cases and, beyond reporting, and knowing how to care for GBV survivors. As healthcare providers are often the first and only points of contact for GBV survivors, capacity-building activities are critical to adequately provide effective, survivor-centered care, and relevant data and reports.
In response to these challenges, WI-HER, under USAID's Integrated Health Program, strengthened the capacity of frontline healthcare providers to document GBV cases and respond to survivors of GBV effectively. One essential activity to steward this work was the Grantee Under Contract (GUC) Activity. To date, the GUC has built the capacity of more than 1,500 primary healthcare professionals to provide treatment and care to GBV survivors in Kebbi, Sokoto, and Bauchi. To achieve this, WI-HER trained local organizations to conduct and cascade training and mentorship for HCWs on GBV documentation and reporting. In addition to the GUC activity, WI-HER helped strengthen supporting systems to ensure accurate GBV case data. Specifically, new data collection tools have been developed to report on cases using the government's national reporting system, and gender focal persons have been assigned at each facility to report GBV cases. Consequently, a more robust reporting system is now in place at the facility to share and disseminate GBV data across all healthcare system levels.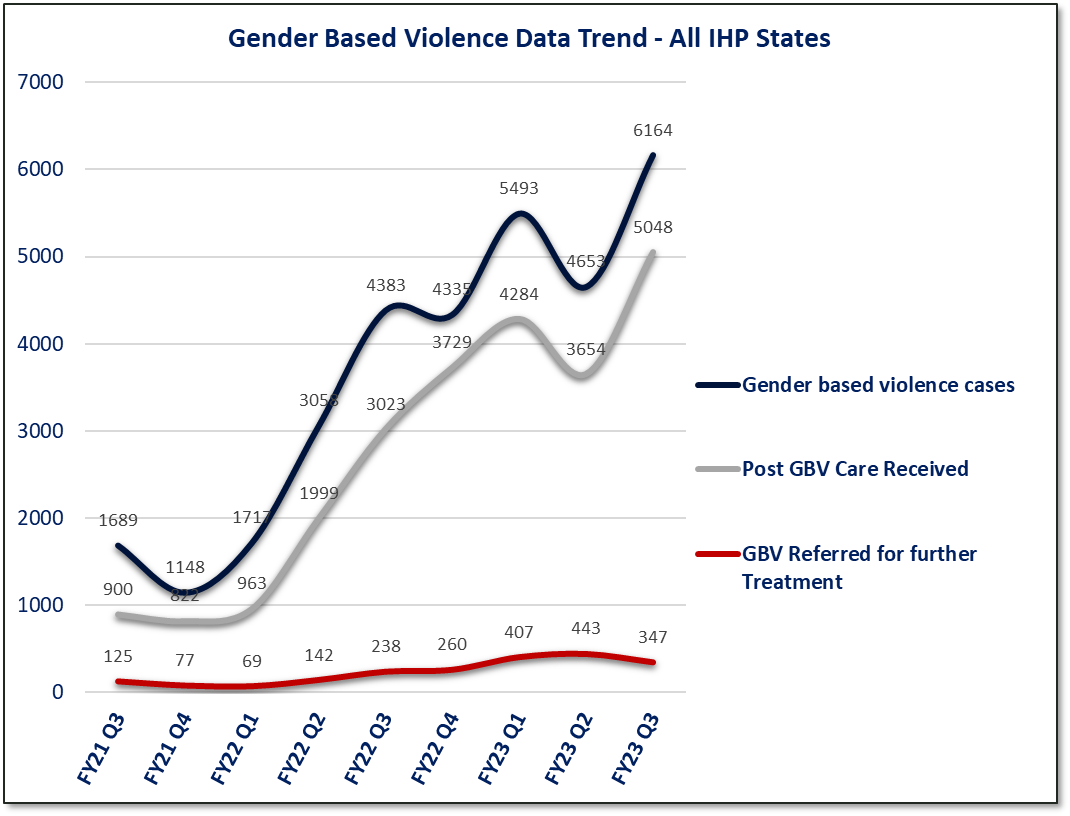 Two healthcare workers from Kebbi reflected on the GUC cascade training: "Because of this GBV training that was done, I'm able to identify, treat a survivor, and give them the necessary support needed."And, "I can now correctly fill the GBV forms available in my facility."
Based on the cascade training and continued mentorship, under USAID IHP, WI-HER has seen impressive results from the GUC. From 2021 to 2023, there was a significant increase in the number of GBV cases identified and provided with initial care, with reported GBV cases increasing by 265% (see graph). The collected data is validated in collaboration with state-level stakeholders and regional staff, who also assist in supporting the facilities through GUC activities, including on-site mentorship and GBV patient care training.
Through the Training of Trainers (ToT) activity, the capacity of HCWs will continue to improve not only the experiences of survivors of GBV but the reporting function as well. IHP has also created and continues to maintain relationships at the ground level with those at the health facilities and through partnerships with the Federal Ministry of Health, Federal Ministry of Women's Affairs and Social Development, and other community-based organizations, as we recognize that responding to the needs of victims and survivors requires a network of collaborating partners if there is to be a broader lens placed on the MEL functions of HCWs.
An Officer within the State Ministry of Women Affairs commented on the initiative, "IHP/ WI-HER has supported my work in GBV response. Before now, organisations were working in isolation, recording few cases but… IHP saw the gaps and the need to bridge those gaps through the facilitation of the Multi-Sectoral Approach [and] the Ebonyi state GBV Task Force."
Based on these significant results of the GUC, WI-HER, through IHP, has scaled up this work in two additional states, FCT and Ebonyi, and is excited to continue building the capacity of healthcare workers to further improve the GBV response work in Nigeria.
Photo 1 (Pre-test in Sokoto) caption: Participants taking the pre-test on gender-based violence identification, care, referral, and documentation during the Sokoto GBV Training of Trainers from July 19 to 23, 2022. Photo credit: Lydia Musa, WI-HER Gender, Social Inclusion, and Community Engagement (GSI&CE Advisor)
Photo 2 (GUC training in Bauchi): Participants collaborate on an activity at the GUC ToT training in Bauchi, Nigeria. Photo credit: Helen John, WI-HER Gender, Social Inclusion, and Community Engagement (GSI&CE) Advisor