To tackle unacceptably low literacy rates and rising new HIV infections, the Government of Uganda has embraced an innovative strategy that integrates mother tongue reading instruction through the third grade with health and HIV/AIDS education in primary and secondary schools. This is part of the Government of Uganda's effort to combat HIV/AIDS on a multisectoral and integrated basis, in this case marrying the fight against HIV/AIDS with its goal of dramatically improving literacy.
In an effort to create better health and reading outcomes through integration, Pangora Group, a woman owned small business, along with prime partner NORC have been working collaboratively with the Government of Uganda and USAID for the past two years under a five-year contract to support this ongoing effort to promote education and combat HIV/AIDS.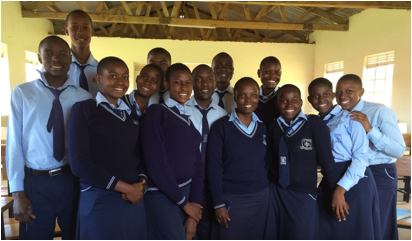 There is a great deal of research showing the positive link education has for many socio-economic and health outcomes. This includes reduced rates of early marriage, lower fertility rates, lower maternal and child mortality rates, improved nutrition, increased earnings, greater socio-political engagement, and greater propensity to educate the next generation. Girls' retention in school is especially important in realizing these benefits. Combining the benefits of education with better health and HIV/AIDS information is a potentially potent mix for maximizing individual and social gains.
USAID/Uganda is supporting this effort, using both education and PEPFAR funds, and integrating support to Uganda's education sector within a health Development Objective. The School Health and Reading Program – SHRP – is the flagship project carrying out the work, aimed at increasing both literacy and health-seeking behaviors. RTI is implementing SHRP through a Cooperative Agreement.
To be most effective as an innovative and path-breaking effort, it is essential that SHRP be able to learn while implementation proceeds, and in as real-time a basis as possible, adapt and refine its approaches to maximize impact. This can be difficult to achieve via individual mechanisms. Reflecting USAID/Uganda's strong commitment to collaborating, learning and adapting (CLA), the mission further enhanced SHRP's potential by creating a parallel contract – Performance & Impact Evaluation (P&IE) – that provides real-time performance feedback so activities can be continuously adjusted to optimize impact, mid-term and final performance evaluations, and annual impact evaluations.
Panagora Group designed and leads the CLA activities and performance evaluations as a subcontractor to NORC at the University of Chicago, which carries out the annual impact evaluations. Through the monthly CLA/feedback process, the two life-of-project performance evaluations, and the annual impact evaluations, the P&IE contract provides a very rich representation of project progress. By being integrated under one contract, there is much more opportunity for interplay among these elements than typically occurs, which rebounds very positively on project outcomes. By grouping these interventions as a separate contract, the Mission has enabled learning and adapting, while maintaining rigor and objectivity.
To implement the CLA component, Panagora developed a variety of tools used by resident staff to observe SHRP. The data from these observations is then rolled up into a monthly performance feedback memo with clearly articulated appreciative and constructive feedback. Panagora leads a monthly meeting in which the memo is shared with the SHRP country management team and each item is discussed and
clarified. Using appreciative as well as constructive feedback improves the context for understanding and develops trust. The monthly dialogue gives RTI the additional information and understanding to make program adjustments that improve its efficacy and outcomes.
In the spirit of CLA, and using the line of communication with SHRP that the P&IE contract enables, Panagora shared an early summary of mid-term evaluation recommendations so it could be available in time for consideration and integration into SHRP Year 3 work planning. This allowed RTI timely access to important recommendations for improving efficacy, e.g., ways to tighten integration between the reading and health elements and more fully achieve the overarching objective of increased literacy and health-seeking behaviors.
Typically, an evaluation team would not have a way to ensure recommendations are available for key planning junctures, much less the interface to promote understanding and adoption of the recommendations through an iterative process of dialogue and discussion. A clear benefit of the third party structure of P&IE is the interface to engage in an iterative process of feedback and dialogue, facilitating adaptive management practices.
Time will tell if the SHRP development hypotheses hold true, i.e., if there are improvements in early grade reading and health-seeking behaviors from mother tongue language instruction and integration of health and HIV/AIDS information in schools. Certainly, the unique M&E support designed by USAID/Uganda and provided to SHRP by Panagora and NORC under the P&IE contract is surfacing the data and reflection to help achieve this promise.