Ugandan TV journalist, Nancy Kacungira[1], captures succinctly the dilemma we face when we try to tell "the African story": "…lumping all 54 countries into a single category just doesn't cut it"[2]. To talk about Africa is at once to contend with the complexities, the vastness, and false stereotypes that characterize the region. There is no single definition to the cultures, no tried and true method of doing business in Africa, and no universal rationality to undergird your business strategy. Despite what the business textbooks say and what the MBAs tout, to enter into Africa to do business is to begin a journey on tip toe and to remain a humble learner in a region that is still to be discovered.
Core Values as our Starting Context
After having worked on Africa initiatives for over two decades, our core team and partners at Portals LLC focus on some core values that can applied across the board that define our philosophical posture:
We are willing to learn: We do not assume that our solutions, perceptions, and initial approach are sufficiently relevant. We are willing to make modifications based on the context we discover on the ground.
We value Partnership: With a partnership approach, we are more likely to exhibit and exercise patience, flexibility, and creativity which are extremely critical in this region. Forming strategic-symbiotic partnerships are key to relevant engagement and momentum in the region. Partnerships have enabled us to have reach and impact which go way beyond the size of our company.
We pursue mutual and equitable benefits: Exclusive focus on personal profiting will short circuit solutions that are sustainable and long-term, which is what the region needs. Africa is a certainly a land of opportunity but not opportunism. Africa is not about projects—it's about people.
We leverage our Diaspora strength: Many of our team members and partners want to contribute meaningfully to their homelands in Africa. The impetus for change comes from a deeper place of purpose and desire for true development. They bring their intimate knowledge of the local environment with their foreign awareness and sound professionalism.
After extensive experiences with problem solving in these regions and after much reflection on these values, we evolved a three-fold solutions-approach. We recognized we needed to be flexible (given the nuances of each problem and each region), multi-faceted (given the complexity and inter-disciplinary nature of each problem), and 'multi-perspectived' (in order to address the needs of diverse stakeholders).
We also discovered that, given the unique challenges in Africa, being a small business could be an advantage.
Nigeria: US contingent visit for Strategic Executive Capacity Building Initiatives
Clients and institutions are looking for solutions, which are relevant to their context, and we saw our current model as a small business as an opportunity to be adaptable and to be appropriate to their specific needs.
Portals LLC's Three-Fold Solutions Approach: The Three C's
We feel strongly that any approach organizations adopt needs to grow out of their core values, in our case we realized that our strategic approach also addresses the main gaps and areas of need we see throughout Africa: the need for Capacity Building, Capital Availability, and Consulting Support. This alignment between our competencies and the region's needs gives us a platform from which we engage meaningfully and confidently, providing the basis for rich partnership and mutual understanding.
Application of The Three C's
Portals LLC has applied this multi-layered approach to provide solutions for national parliaments, financial institutions, five-star hotel groups, oil & gas companies, universities, real estate developers, and power and energy generation and distribution companies, and the model has been consistently successful.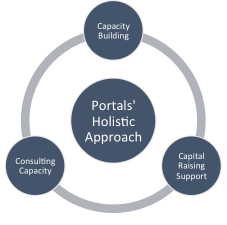 Our core values and competencies provide a pivot point from which we can address multiple needs in multiple sectors.
The '3 Cs' provide a framework from which businesses can offer more holistic development; for example, sourcing funds and investments for African businesses need not be a stand-alone initiative; they can be coupled with capacity building initiatives to ensure that the projects or companies being funded have functional systems of leadership and operational efficiencies to ensure goals are achieved. Its been proven that successful shifts among leaders improve their companies' capacities to take advantage of external catalysts such as timely capital injection or forming relevant partnerships.
Solutions also vary depending on need and context. As part of our consulting efforts, Portals LLC evaluates our clients' operations to discern solutions which will secure their development. On one hand, we have brought foreign specialists to give our clients broader exposure via formal and informal educational initiatives. On the other hand, we have also taken African CEOs out of their comfort zones to the United States for customized programs. In bringing these groups together, we often address misperceptions about culture and practices. Adjusting the 'angle of sight' between the foreign and local entities is a vital part of the process to ensure alignment and productive engagement.
Underlying our business approach in Africa is a safeguard of commitment and trust. This is essential in any relationship. Africa has a tremendously emergent young, driven, talented, workforce, but a values-based approach is needed to convert that potential into productive human capital and leadership capacity which manifest in strategic growth.
Portals LLC is a Washington DC area based development-focused, interdisciplinary, consulting firm. We work primarily in the US and in Frontier market regions with a primary focus on Africa.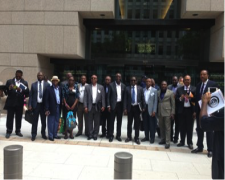 Washington D.C.: African CEO's visit for Capacity Building & Strategic Meetings
We work alongside global-minded institutions to execute their missions by providing execution capacity and support in three core competencies: Management Consulting, Organization development and ICT solutions.
[1] Nancy Kacungira won the first BBC World News Komla Dumor Award for Africa-based journalists.